Will 3D printing transform the packaging industry?
Published: 11 February 2019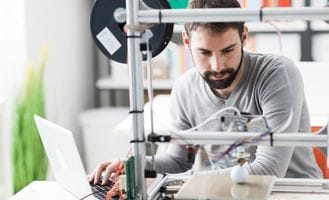 With speculations running high that 3D printing will soon be used for a fair portion of global manufacturing, marketers and manufacturers are facing a whole new world of production and design possibilities. But is the world ready for 3D printing's likely disruption? The packaging industry, for one, is only just beginning to explore its full potential. Here's what we've learned.
3D prototyping is common practice in packaging
Although it's only been a few years since the packaging industry first caught on to 3D printing, the practice's quick uptake in printing packaging prototypes before they move into mass production has seen it become the new industry standard. In contrast with commercial manufacturing, a 3D printer can create a prototype in a matter of weeks (or less) and at a reasonable price. For brands, this eliminates the need to build custom manufacturing tools which can take months and often come with a hefty price tag.
Technological advances in 3D printing are also helping manufacturers simulate more complex processes. For example, blow moulding is being used to produce hollow-bodied products, such as bottles a critical practice in most FMCG packaging. In 3D printing, thermoforming can achieve the same effect. It allows you to print refined hollow structures like blister packs for medication. This enables businesses to introduce their products to the market sooner and test demand amongst their target group.
3D printing is yet to conquer mass production
When it comes to producing packaging at high volumes, classic manufacturing is still one up on 3D printing. Although 3D printing's production time and price per unit is an asset in prototyping, it's still not the fastest or most efficient method for printing large quantities. Today, one printer can only print one item at a time. Factories, on the other hand, can produce high volumes in a relatively short amount of time while keeping your price per unit low.
Professor Neil Hopkinson, inventor of the 3D printing technique High-Speed Sintering (HSS), believes that 3D printing may not be able to compete in price when it comes to printing large quantities, but it maintains its edge when it comes to fulfilling highly personalised and low volume orders. "[3D printing] will enable designer and products to be more creative in their thinking and make packaging far more engaging, exciting and interactive."
He suggests that the key to enabling 3D to print high packaging volumes is merging it with existing inkjet printing technologies. "Inkjet parallelises the conversion of material to part. In laser sintering, you have a powder bed, and the laser draws a shape on the bed layer by layer. However, if you replace the laser with inkjet technology [] it turns it into a parallel process, which is ten to 100 times quicker, driving down costs." This, he says, could make 3D printing more commercially viable in the packaging industry.
While it may still be some time before 3D printing becomes a routine part of mass manufacturing, its capabilities in creating one-of-a-kind, custom packaging can take your product and your brand to the next level at a fraction of the cost.
Author:
Snap Franchising Ltd