Complete guide to embossing and debossing
Published: 30 January 2023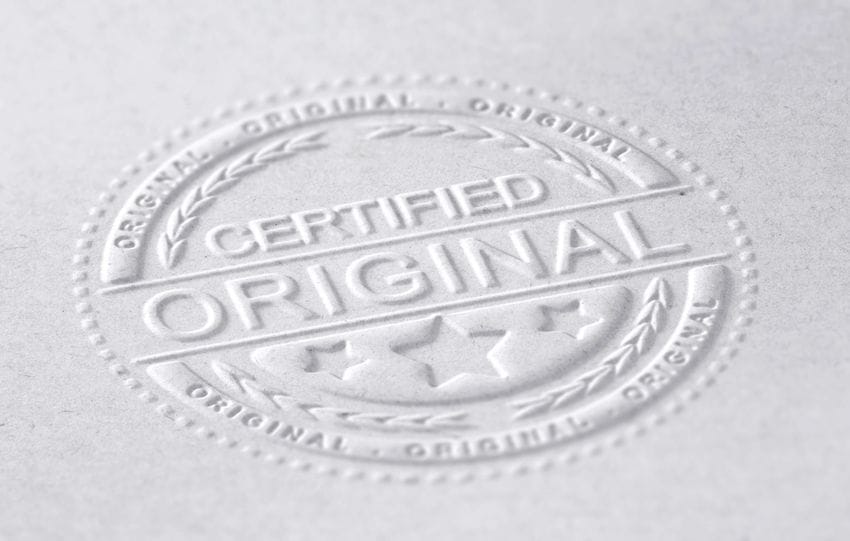 Embossing vs debossing
What is embossing?
Embossing refers to the technique used to impress an image or text onto material. It involves using a metal plate that has been cut into the desired shape or text, and pressing it into the material with a weight to give that shape a three-dimensional, elevated effect. This metal plate can be single level, embossing the shape to a consistent height, or multi-level, to give the elevation a varied effect. Although embossing is a technique primarily used on paper products such as business cards or wedding invitations, it can also be used on materials such as leather, metal, acrylic, wood and cloth.

What is debossing?
Conversely to embossing, debossing involves imprinting an image or text into a material, giving it an indented effect as opposed to an elevated effect. Unlike embossing, debossing doesn't interfere with the other side of the material that you're working on, meaning that you can use both sides of it. To enhance your embossed or debossed designs further, you can choose to add foil or ink to your design to make it stand out.

Types of embossing and debossing
There are several techniques you can employ to give your embossing or debossing different types of finish.
Blind embossing / debossing
Blind embossing or debossing refers to leaving the impression or depression in your work unprinted or unfoiled - meaning it will just be the elevated or imprinted image or text on its own, with no ink or foil to make it stand out further. Debossed work is best left blind, as this will allow you to push the image or text deeper in the material than you can with hot foiling, making it stand out more.
Foil embossing / debossing
Unlike blind, foil embossing or debossing (or hot foiling) involves pressing a thin layer of foil onto the embossed shape or into the debossed shape. Hot foiling allows you to draw attention to text or shapes by adding a shiny, colourful look to the three-dimensional effect of your work, which is further exacerbated by the contrast of the paper around it.
Photographic embossing
Photographic embossing is the process of using computer graphics to replace every pixel of an image by a highlight or shadow, depending on the light/dark contrast of that pixel. From there, every pixel is turned to a different shade of grey, depending on its lightness or darkness. This grey version of the image is then used to guide the embossing process, whereby dark grey pixels are embossed, meaning that the outlines of shapes and shadows in the image will be elevated for a 3D effect.
Multi-level embossing
When embossing, you can choose to elevate the shape of text to a consistent height by using an even metal plate to press into your material. Alternatively, you can use a multi-level plate to make your three-dimensional effect more varied and fluid.
Where embossing and debossing can be used
Although a technique primarily used on paper, embossing and debossing can be applied to a wide variety of materials - including leather, wood, metal and acrylic. In terms of when it is best to emboss vs deboss, embossing is best for embellished, robust designs, as it lends itself more to hot foiling and techniques for standing out with its height, while debossing, on the other hand, is best for minimalist, clean designs as the depth of the impression allows the shape or the text to speak for itself.
Techniques for achieving different effects
Combine blind, foil, photographic and multi-level embossing or debossing to make your work fresh, unique and attention-grabbing.
Highlighting and accenting
Use foil embossing or debossing to draw attention to certain words or shapes, create an aesthetic border for your invitation, or give your design an overall sophisticated and snazzy look.
Creating texture and depth
Why create two-dimensional invitations or business cards when you could create three dimensional? Use embossing and debossing to give a unique look and feel to your designs, or multi-level embossing for a further varied effect.
Tips for successful embossing and debossing
Choosing the right paper weight and finish
Ensure that you use a high-quality die (i.e. paper weight) when embossing or debossing, that has been cut into exactly the correct shape that you'd like to imprint on your chosen material.
Testing the embossing or debossing effect before committing to a large run
It's always important to try before you buy. Ensure that you develop prototypes of your embossed and debossed work before placing your entire order.
Using a light to check for evenness and consistency
Grab a phone flashlight to ensure that the depth of your debossing or height of your embossing is even and consistent for a clean, aesthetic design.
Come try your own embossing or debossing at Snap Printing!
At Snap Print Solutions, we specialise in all embossing or debossing techniques. Ensure that your business cards, wedding cards, flyers, packaging and more are unique, professional and aesthetically pleasing with our premium services.