Thank You Cards: What to Say & How to Print it
Published: 10 May 2022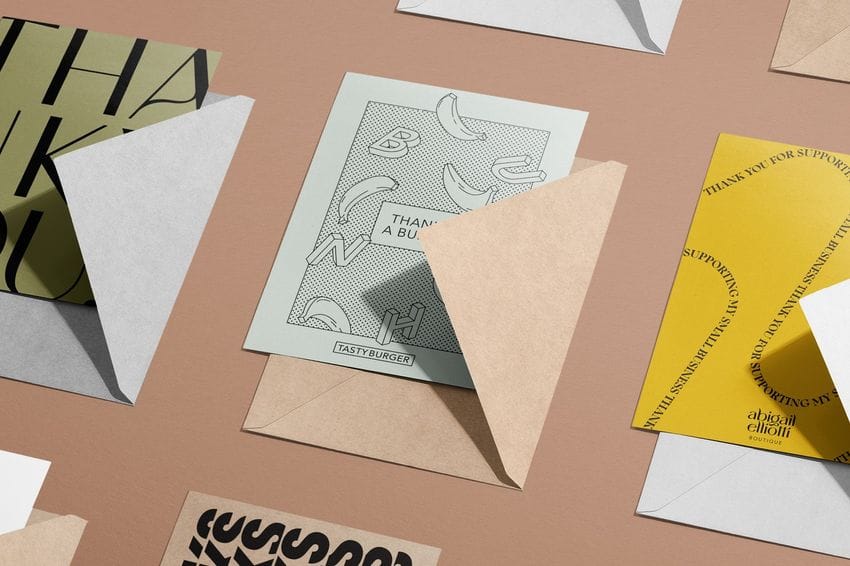 Thank you goes a long way.
When it comes to packaging, you should consider a few things like the unboxing experience and other must-haves like stickers and labels.
One of the most important (and often forgotten) features of successful customer relationship building is saying thank you.
The importance of saying thank you to consumers
There are a lot of options out there, and your customer still picked your product. And even though we know your choice was the best one, your customer may not have.
Saying thank you has three primary benefits in marketing and merchandising.
Build loyalty
When your customer purchased your product or service, they acknowledged its value and your business's.
When you say thank you, you return the favour. You realise that they had a bunch of other options and that you're happy they chose you. The acknowledgement shows that the consumer isn't another faceless number in your profit margins but a valued customer and extension of your brand.
Creating return customers
With your acknowledgement and new loyal customer, you've got a higher chance of a return consumer.
The shopper will remember the extra effort you put in and relate that value to your product or service when weighing their options the next time they buy.
Increasing your customer base
And finally, with loyal, returning customers, there's a higher chance that they will recommend your business to other consumers.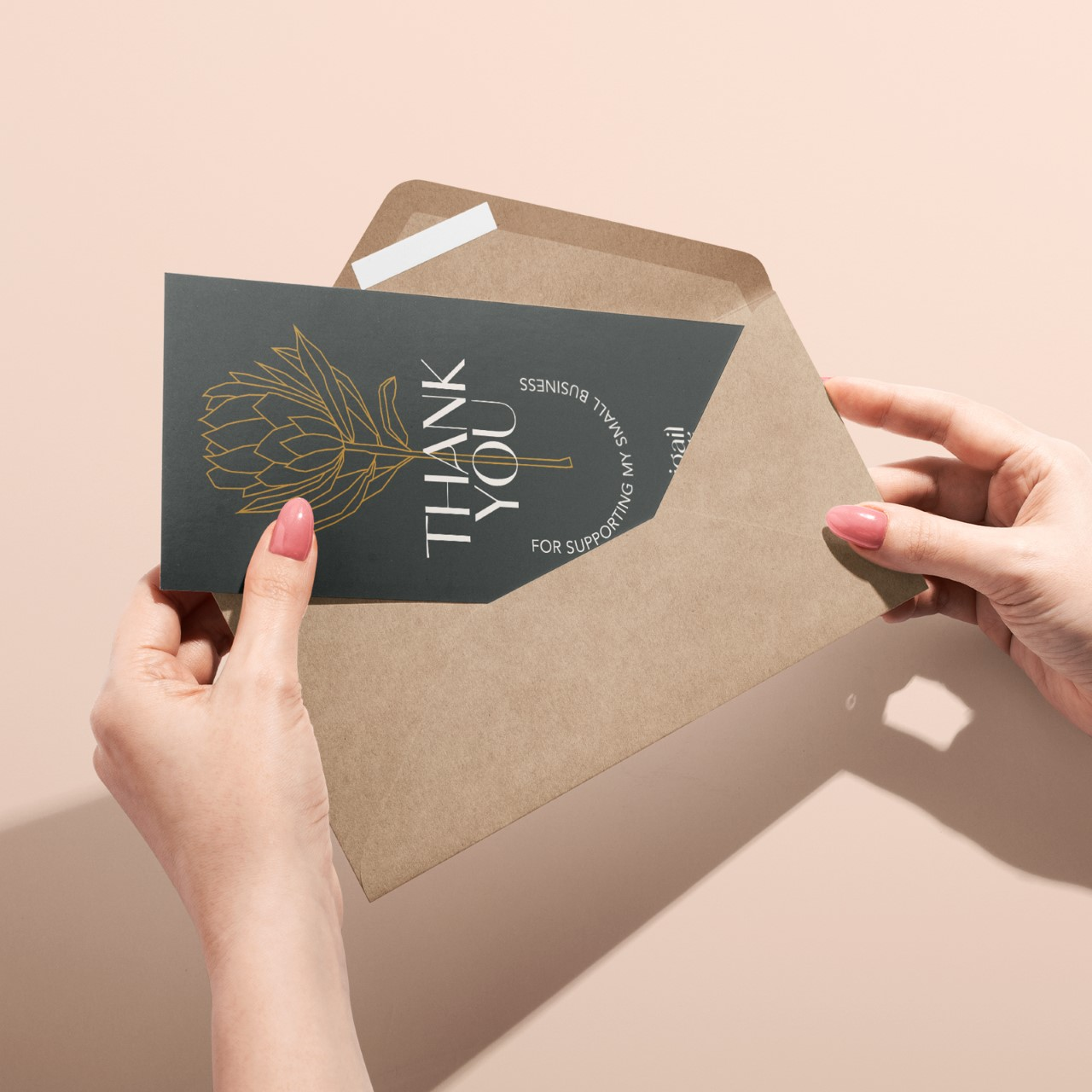 What to include in a thank you note to customers
To earn your loyal, returning customers, you're going to need to start designing and printing your own personalised thank you cards for your packaging.
There are many printable thank you note options available to you. Where should you start?
What should a thank you card say?
Your printed thank you note doesn't need to be long or say too much. The three main things a thank you card should say are:
An acknowledgement of purchase

Why you're happy they chose you

Why you think it was the right choice
Typically, you'll want to keep it short, light-hearted and to the point. To appeal on a closer, more personal level, you could include short jokes or print separate thank you cards for different occasions.
You can fill your product's packaging with some of our favourite examples that help support your brand message and values:
"Thank you for supporting local businesses"

"We're happy you chose us!"

"Thanks for choosing us. We won't let you down"

"Thank you for choosing a sustainable option like ours"

"Thanks for choosing an eco-friendly product like ours"

Depending on the situation, the context and contents may differ and you might want to personalise it further. Some opportunities and times you might want to print a different thank you note include:
A returning customer ("Thanks for choosing us again!")

A specific product ("Thanks for choosing our __)

A customer that chose to tip or donate extra ("Your generosity hasn't gone unnoticed!")

Someone that has returned or hasn't purchased from you in a while ("Welcome back")

Someone that left a review ("Thanks for taking the time to tell us what you think")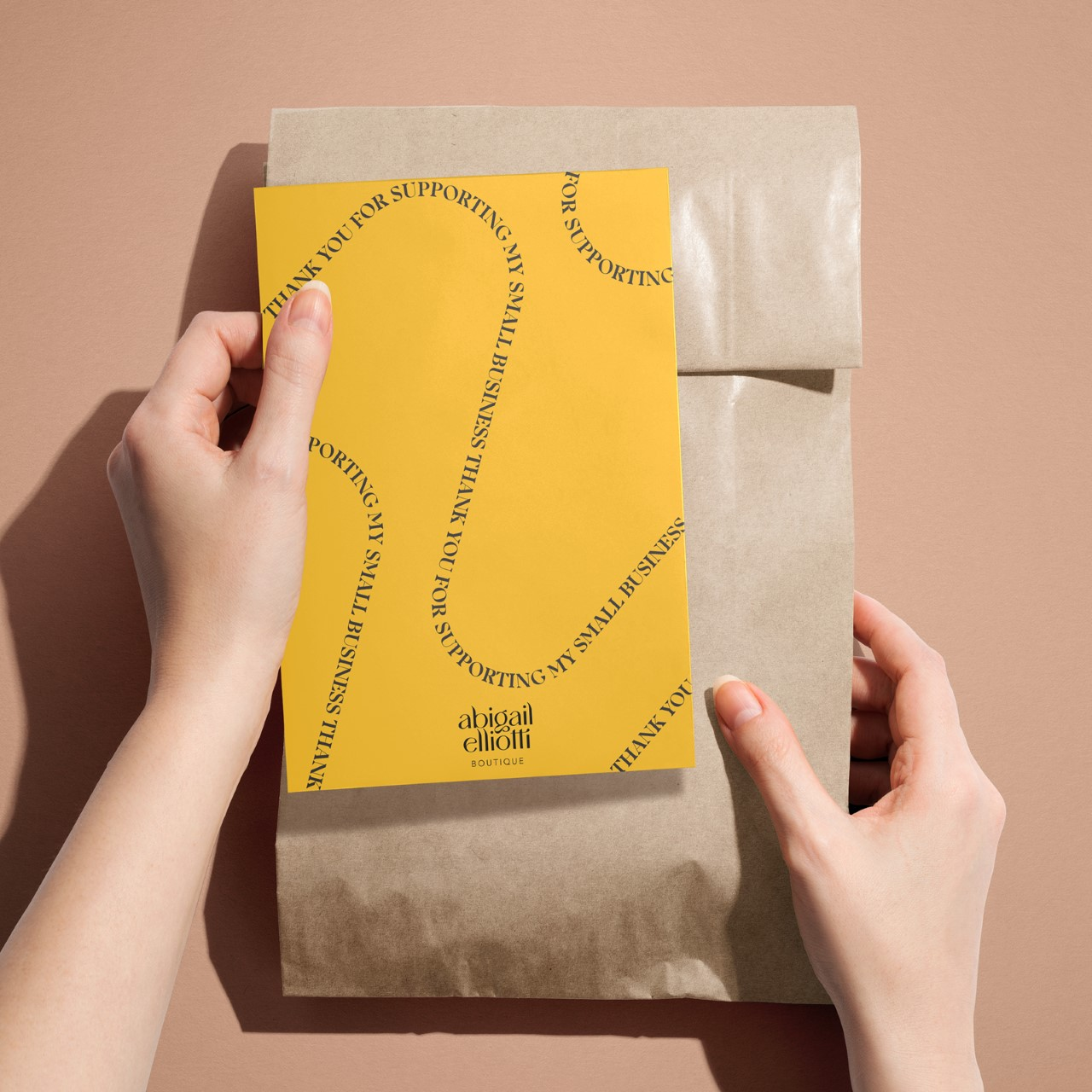 What else should be in a thank you note?
Along with your kind words, you can make it easier for your customers to shop with you again or to share your marketing efforts.
Ways to identify your brand and learn more
Your printed thank you card should have your brand name or logo to make it more memorable and to associate it with your business.
You could include it in your personalised, kind words, or you could add your logo or brand name to the printed design.
As well as association with your product, your buyer might like to learn more about your company and the other products you sell.
You can include links to your social media channels, website, and contact information to make it easier for them.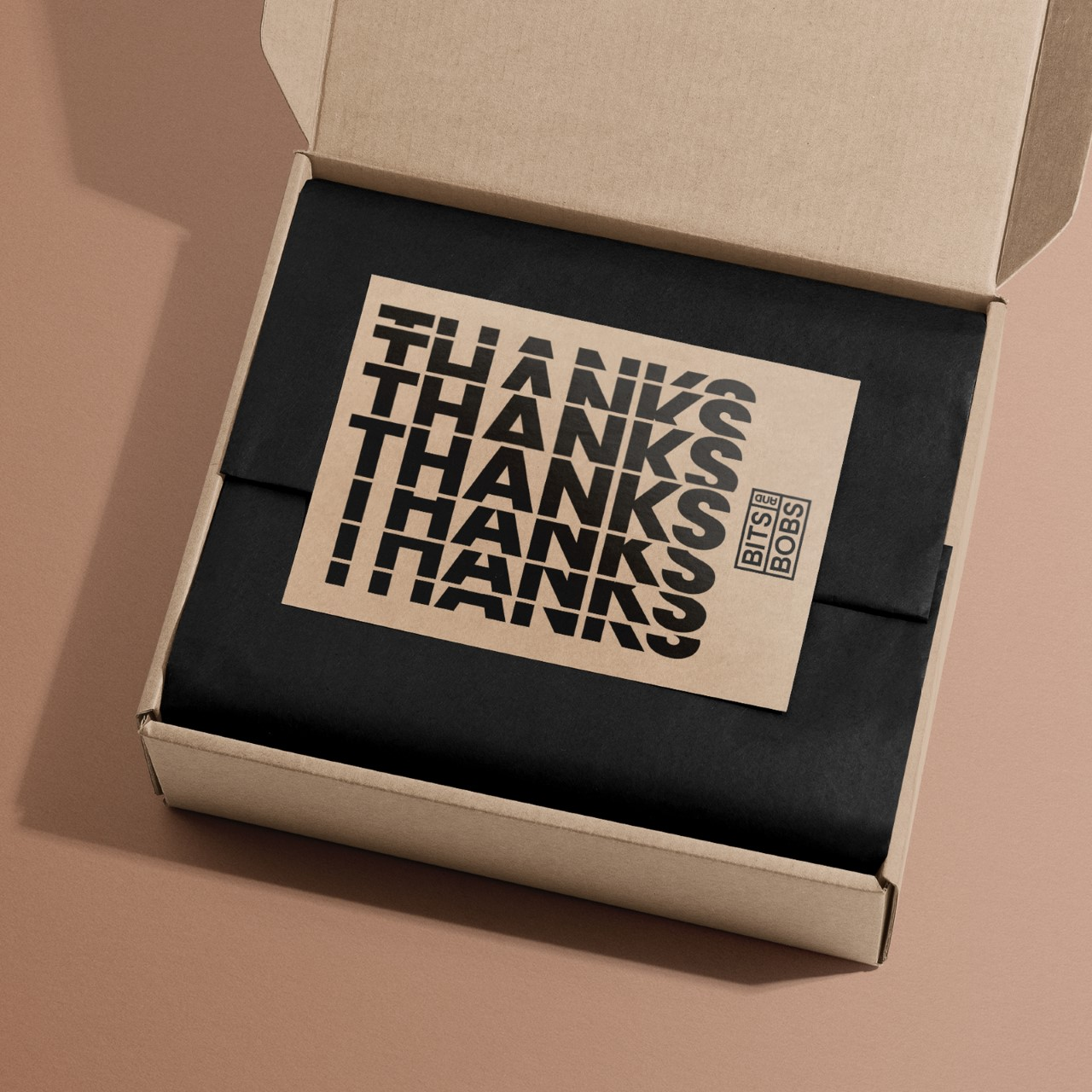 An invitation to review
If you created an unforgettable unboxing experience, you might want to get in quick and invite your customers to leave a review while they're extra excited.
Your included thank-you note could have an invitation to leave a review on your website or social media channels in the form of URLs or QR codes.
An incentive to return
As if your product or business needed more incentive than its quality, you could add in a couple of extras to keep your customers coming back.
Some of the best incentives to add to your packaging and keep your customers shopping with you include:
Steps to print thank-you cards
1. Choose a shape and size
Thank you cards can be printed in a wide range of materials, shapes, and sizes. The most popular shapes of thank you cards are 90x55mm, 50x50mm, and 105x148mm. That's about the size of a business card or postcard.
2. Choose a design from a template or have it custom-designed
Personalise your printed thank you card from a selection of hundreds of readymade templates online or create an entirely bespoke solution fit for your business with first-class Snap graphic designers.
3. Get a quick turnaround quote
Whether you're a small business starting out and selling products locally or part of a bigger company selling products nationally and internationally, Snap Printing can create a thoughtful quote fit for your needs and price flexibility.
With local printing centres across Australia, Snap has a printing solution for personalised thank you cards near you.
Find a Centre or request a quote online.
4. Build a repeatable process
With loyal, returning customers that are sharing the great things you're doing, your brand awareness increases and so does your reach to potential new customers.
And increasing brand awareness comes the need to up your packaging game and thank you card printing.
Create bulk orders or build a repeatable process with your local Snap Centre.
Contact us or find out more about Snap on our Facebook, Instagram, or LinkedIn where we post inspirational printing and design tips.
With physical locations across the country designing and printing for small and big businesses, your thank-yous are safe with us.