How to Design the Perfect Sticker or Label
Published: 7 February 2022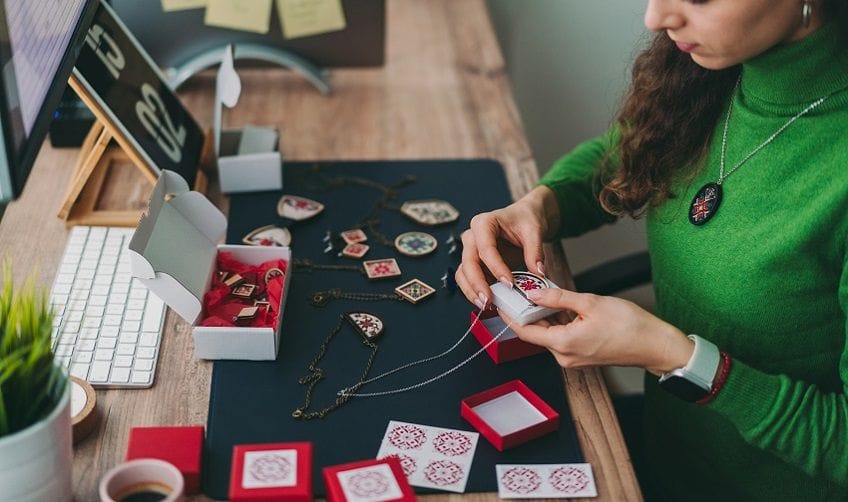 The secret to stellar sticker design for your business.
The beauty of stickers is their versatility. The right stickers can absolutely elevate your brand. They can pair with your other print marketing materials or act as a standalone promotional item that will 'stick' in your customers' minds.
But before you can get to that stage, you need to create your sticker design. To make that easy for you, here's our complete guide to business sticker and label design online.
Be clear on the purpose of your stickers
For any business stickers, the first thing to consider is how you'll use them. This will impact the entire sticker design and print process.
No matter what you are designing, understanding the purpose is the crucial first step. Nailing this and getting really clear on who your audience is, what the sticker will tell them and why you're creating it lets you start designing with confidence.
For example, if you're designing your own stickers online for an upcoming campaign, you need to first ask yourself:
Will the stickers be used to add branding to packaging?
What do we want these stickers to communicate?
Who is the intended audience for these stickers?
Here are a few simple factors that will help you to define the purpose of your stickers (and make the design process so much easier!):
Sticker use: if you'll use your sticker on packaging, you'll need to consider different design elements (see later in this article) than if the sticker will be purely promotional. It can be easy to think that one sticker design can work for multiple purposes, but that isn't always the case. Be very clear on exactly where you'll use your stickers to be sure you get the design right.
Sticker content: think about what information needs to appear on your sticker. Remember that a smaller sticker won't have space for much copy. In fact, our smallest business sticker sizes have only just enough space for a logo. Also, consider whether you need to include a call to action (CTA). The CTA could either be subtle, e.g. including your social media handles, or more overt, e.g. "Visit our website".
Sticker audience: define the recipient of your sticker, as this can significantly affect the design. For example, an edgier design might appeal to a younger audience, while social media handles won't be an appropriate CTA for a less tech-savvy audience.
The three 'S's of sticker design: shape, size and stock
Once you understand your purpose, you need to do a few other things before you jump into design.
These include choosing the shape, size and stock of your stickers.
Shape
You have three business sticker shapes to choose from: rectangle, square and round. For name labels or return address labels, you'll probably choose a rectangular shape. Meanwhile, for envelope seals or to brand your packaging, round is often a good choice.
It's OK to be bold with your sticker shape to make a statement. Perhaps you could choose a round sticker as a name label for an event, rather than a traditional rectangle, to stand out as unique. This is why understanding the purpose of your sticker is so important.
Size
Sticker sizes vary from small to large, depending on the shape you choose.
The size needs to be large enough to convey your message, but not so large that it looks out of place or comical. For a simple branding sticker, a small round design may be sufficient. If you intend to use it in a promotional giveaway, a larger square sticker is probably a winner.
Stock
There are two sticker stocks for you to consider: matte and gloss.
Matt is ideal for stationery stickers, while gloss is best when you want your stickers to shine, such as for branding purposes.
When it's time to design: the four-step process
Once you've defined your purpose and know the stock, size and shape of your stickers, it's time to design. There are four steps in the sticker design process, all of which are equally important.
1. Choose your colours
Colour is a crucial consideration in custom sticker design. Bright, bold colours are good when you want your sticker to stand out. But pastels and monochrome can also work equally well. It comes back to what you are trying to achieve with your stickers and also ensuring consistency with your brand.
Also, consider how your colours work together. Yellow text is often hard to read, so avoid it in most cases.
2. Choose your fonts
Speaking of fonts, also consider how the fonts you choose will add to or detract from your online sticker design. When you are designing your stickers, be sure to view the design at its actual size on your screen. A font may look amazing in a large view on your screen… but when you scale it down to the true size of the sticker, you may lose some elements.
3. Choose your image elements
Think about what image elements will also need to go on your label. For example, will your sticker require a barcode? How about a QR code? A logo?
Human brains tend to prefer visual elements to text. So – especially if the sticker is small – consider just including your logo rather than a logo plus your brand name underneath.
Then check back to the sticker content you decided on before you started designing. What content would work better if you displayed it visually?
4. See how the elements look at actual size
If you're designing a 41mm round sticker, too much text will be illegible. However, don't just increase the size of your sticker. Remember that less is often more, so instead consider actively removing elements – choosing a larger sticker size doesn't necessarily mean you can add more elements.
If you aren't a confident designer, always use a label design template. Our templates also give you some helpful 'do's and 'don't's to avoid common sticker design mistakes. This may not seem like a big thing, but a template can save you a whole lot of time and worry!
The last thing you want is to have to start your design all over again because you got the dimensions wrong. (Or worse, print your custom sticker designs to find that they extended outside of the safe area.)
Templates include the crop and bleed marks, which ensure that none of your text or design ends up cut off in the trimming process.
Another thing a template can help with is ensuring the correct design resolution. This gives you the confidence that your stickers will look as good in print as they do on your screen.
If you want professional assistance with your design, reach out to your local SNAP Centre - we're always here to help.
Simple sticker design online with SNAP
At SNAP, we've made sticker design online super simple. You can choose to upload your own design (don't forget to use our templates), use our convenient Canva integration or lean on our design expertise to bring your sticker idea to life.
With a large range of sticker options across different shapes, sizes and stocks, it's simple to order your stickers online. Then either get them delivered to your door, or pick them up from one of our 130+ SNAP Print & Design Centres around Australia.
You're only a few steps away from your perfect stickers! Let's get started.