Large format printing: How does it work?
Published: 8 December 2020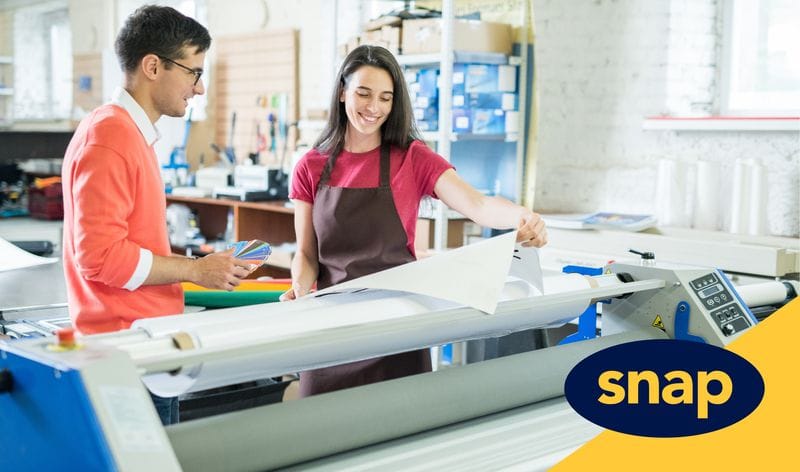 As the name suggests, large format printing can produce extra-large prints, but there's more to it than the sheer size of things. So, if you've ever wondered how those larger-than-life prints come together, we may have the answers for you. Read on to find out.
What is large format printing?
Large format printing, sometimes referred to as wide format printing, is a type of digital printing. Similar to an ink jet printer yet on a much bigger scale, it sprays ink onto the chosen materials to quickly produce quality prints with impeccable detail and accuracy.
Most of us encounter large format prints on a daily basis. For example, in the shape of out-of-home (OOH) advertising, such as billboards, life-sized cut-outs or printed wrapping paper. Products like these often use special materials and finishes to make the print more suitable for locations where it may be exposed to the elements for a long time.
How does it work?
The large format printing presses used today are a relatively new technology. Before they came into play, creating oversized, precise prints involved a fair amount of manual labour. Printmakers had to set the colours, position each print by hand and clean the printer between each run. Extra-large prints also had to be printed in sections and stitched together.
Even today, it still takes many smaller (but still large) prints to put some XL billboards together. However, the invention of large format printing presses has helped streamline the production process a great deal.
For instance, there's no need to manually clean the printer between uses and to manually set up the job. This, of course, has had a major impact on the overall production time, as well as the individual cost-per-unit (CPU).
What can you do with large format printing?
Large format printers tend to be physically larger than their predecessors which means they can produce images of varied sizes. Popular products include wallpapers to billboards, architectural plans or exhibition stand graphics.
Aside from regular paper stock, they can also print on a number of different surfaces like cardboard, canvass, mesh, and vinyl. Since the colour is typically sprayed onto the surface, it also allows you to add a bit of texture to your print by applying additional layers.
What to consider when printing big
There's a few things to consider when setting up files for large format printing. The first thing to ask is: where is your print is going to be viewed? If you're producing a mural viewed from a relatively close distance, you want to make sure it's detailed enough. For this kind of print, a 300 dots per inch (dpi) resolution should be sufficient.
A common misconception is that a larger print requires a higher resolution, however, in large format printing the opposite can be the case. If you have a 300dpi file and your print is going to be viewed from a greater distance, you should, in fact, decrease your image resolution. Depending on your file and planned output, this could mean reducing it to 100dpi or less. This can help keep your file size at bay for easier processing while still creating a stunning viewing experience from afar.
The possibilities of large format printing are virtually endless, with the only rule of thumb being: the further away the viewer is to the print, the larger the dots should be, and vice versa. So, are you ready to think big?
Contact your local Snap Centre to learn more about our large format printing services.
Author:
Snap Franchising Ltd