Why your print ordering could be hurting your bottom line and brand
Published: 15 May 2017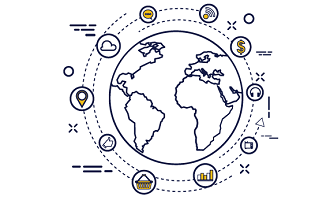 If your business is like most, you probably have various employees ordering print, design and marketing jobs. Sometimes they're in different locations. And often, they'll use a multitude of printing companies and agencies.
The problem with this decentralised approach is that it often leads to:
inconsistent print finishes
artwork and files getting lost or misplaced
job orders slipping through the cracks
missing out on opportunities to take advantage of your buying power
never having a clear picture of what's happening or how to be efficient.
Over time, it adds up to a lot of wasted resources and dollars.
That's why, in almost any part of business, it pays to consolidate. Whether you're booking travel, leasing technology, buying furniture, sending out couriers or organising your printing and marketing.
An easy way to save time, reduce costs and gain total control of your print, design and marketing projects
Many Snap business clients are consolidating by taking advantage of our online portal MOO (My Online Orders).
It gives their people in different locations the ability to manage their print and marketing requirements far more effectively and efficiently. And avoids so many errors.
Here are some of the benefits of MOO:
Do quick, easy, streamlined ordering 24/7
From brochures to posters, stationery to stickers, point-of-sale to promotional materials - all your artwork is loaded on to the portal.
Approved staff only can log in anywhere and anytime, personalise their order, then review, approve and click to checkout. The file goes straight to a local Snap Centre for fulfilment.
Control costs and service levels
We work with you on pre-agreed prices and print guidelines. This mean lower admin costs and faster responses to your orders while you have total control over your brand and budget. Plus, all items purchased can be tracked to individual staff logins.
See reports and how to save more
Log in and you instantly get the full picture of your print spend, invoices, who's ordering and what's being ordered. You'll know exactly where you are now and how to make even greater savings going forward.
Send deliveries anywhere with a click
Sometimes you need to send a finished job to more than one location. With a mouse click your staff simply let us know whether everything goes to a single or multiple sites, and your Snap Centre will deliver them all for you.
Call on expert Snap help
Behind the ease and smarts of your MOO ordering system, you and your staff can always feel confident knowing you can always talk to a Snap expert. Just like walking into a Centre, they're available to provide the help, advice and service you need, whenever you need it.
Make Mother Earth proud too
Less paperwork means MOO is also a win for the environment. So while you're saving on time, money, file replacements and admin, you're also doing your bit for our amazing planet too.
Like to know more about MOO?
MOO is a perfect example of how consolidation and technology can help a business of any size. If you're looking for simple, cost-effective ways to do business more efficiently and effectively, MOO is a great place to start.
If you'd like to learn more, contact your local Snap Centre today on 1300 167 032 and talk to one of our friendly experts.