Why you should outsource
Published: 18 April 2013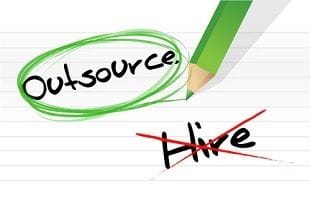 Benefits of outsourcing
Many small business owners harbour the misguided notion that they must be involved with every aspect of their company and that once work is outsourced they lose control. Outsourcing, however, has many benefits for startups and big businesses alike.
Get experts
You may feel that no one loves or knows your business like you do, so you're the best person for every job. While your passion is admirable, you're better off learning to communicate what you want. As talented as you may be, it's unlikely you'll be able to produce top quality design work, balance the books, market and sell to new clients and everything else a business needs all by yourself, so don't be afraid to get expert help.
Save time
Everyone has their own skill sets, and if you try to do everything you won't have the time to focus on what you're best at. Sometimes it's not the hard stuff that you need someone to take care of but the simple tasks that are taking up too much of your day. Virtual offices can answer your calls and virtual assistants look after your admin work, letting you dedicate time on your core skills.
Save money
While the temptation might be to hire someone to work alongside you full time, this can often be more expensive than necessary, especially in the early days of a business. Rather than paying one person over the odds to do lots of little jobs, it's better economy to pay different people on a per-job-completed basis.
Get access to expensive tools
As well as experience, sometimes a big difference between a professional job and something done in the office comes down to the tools used. From a designer with the latest software to a printer with top-of-the-line machinery, sometimes it's better to outsource work and get access to these great workers and equipment.
Contact Snap
to aid your business with its print, design and website needs.