Why you need a marketing plan (Hint: it's bigger than just marketing)
Published: 2 January 2018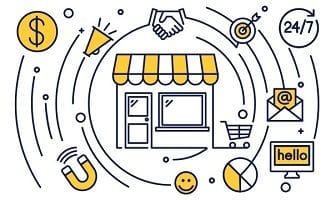 When it comes to marketing your small business, do you have an ongoing, well planned strategy? Or are you more of a spur of the moment, do what feels right, fly by the seat of your pants marketer?

There's no doubt that spontaneity has its place in this fast-paced world. Woody Allen once said, "If you want to make God laugh, tell him about your plans."

But there's another famous saying that you should probably heed more often in business - "If you fail to plan, you plan to fail."
What exactly is a marketing plan?
Marketing plans help you answer important questions about your business. They're also a reference point to help you execute your marketing strategies, and to create services and products your audiences want to buy.

They go deeper than a big picture marketing strategy by outlining the specific steps you need to take to accomplish your strategy goals. Your marketing goals are based on your business goals. A good marketing plan might include:
a SWOT analysis
specific marketing objectives and tactics
action plans
a budget
evaluation of how effective it is as you progress
a summary.
7 benefits of having a marketing plan
A well thought out and researched marketing plan helps you launch and run more successful marketing campaigns. But that's just the start. They also help you in may other crucial areas of business.
Creates a clear vision about your business and target market
Developing a marketing plan gives you the chance to understand the different factors that may affect your business by:
clearly identifying your target market
developing tactics to reach your target audience
understanding how your product or service meets your customer's needs
identifying your competitors and how you compare
setting specific goals, deadlines, and timeframes for your marketing activities, etc.
Keeps your team in the loop
A clear marketing plan unifies your staff because they have a concrete document that tells them what is happening in the business, and why decisions are being made. In an ideal world, you can encourage and invite them to contribute to the plan and take ownership of it.
Plans help the day-to-day running of your business
A marketing plan gives you added control of your business. While you develop your plan, you'll set business targets and milestones which help you to:
monitor your business resources and allocate accordingly
determine the success of specific actions and strategies
keep an eye on the overall business performance.
Your marketing objectives align with your business goals
A well-drafted marketing plan includes details of your business your target audience, product details, budget, timelines etc. With a well-detailed marketing plan, it is easier for your team to implement the strategies that boost results.
Manage your cash flow better
A clear marketing plan on the table makes it easier to manage your money. Precise cash flow projections for the next year can alert you well before any problems raise their head.
Helps you obtain finances
If you are looking for financial support for a loan or meeting venture capitalists, you'll need to provide your marketing plan to them.
Presenting potential financial backers with a comprehensive marketing plan will ultimately increase your chances of funding. Having a document ready to go also says that you're a professional who takes business and their potential investment seriously.
Planning helps to reinforce the brand
With a strong marketing plan, you can reinforce your brand through various channels. Regular contact breeds familiarity and a feeling of trust.

Your efforts in maintaining a consistent brand identity through your website, social media, blog posts, testimonials, newsletters, print and all face-to-face marketing messages leads to more sales.
Developing a marketing plan will help you see both the big and detailed picture. It takes random ideas and conversations and crystallises what's important. Then you and your team will have goals in writing with reason behind them, and actions to complete.
While marketing plans are crucial, they can also take time to put together. So don't let an unfinished marketing plan stand in the way of you experimenting and learning as you along the way.
And if need help with strategies, testing ideas or putting your plan into action, talk to the marketing experts at your local Snap Centre.