Why digital and print advertising work well together
Published: 16 January 2017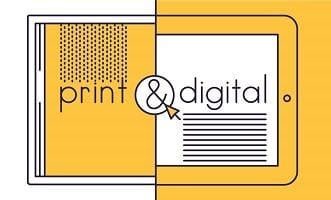 When it comes to your marketing campaign, combining print and digital aspects should not be underestimated. Independently, they are effective at reaching certain relevant demographics. When the two are combined, however, the result is an impressive fusion perfectly suited to the modern consumer.
Print can work for you
Print advertising is not dead. In fact, a 2015 international survey by Two Sides found that 88 per cent of respondents indicated better understanding, usage and retention of information when reading printed material compared to reading on electronic devices.
And a 2015 study by The Newspaper Works analysed over 1400 ad-effectiveness surveys to determine which components lead to a successful print ad. The results found that print creative is still a powerful tool when used to lift brand attitudes or when driving sales and trials.
According to the same study, these five elements are the secret to potent print media:
Evocative headlines
Eye-catching imagery
Succinct, concise copy
Prominent branding
Clear calls to action
However, distribution is often one of the biggest issues facing print media campaigns because you need to get the material circulated to as much of your audience as possible. This is where digital elements can boost the reach of your printed content.
When you add digital elements to hard copy, you diversify its strengths and further its effectiveness. If used right, print can be a smart investment in your marketing strategy, especially if it compels readers to further interact with it via their electronic devices.
Hashtags, QR codes and links
A combined print and digital formula can help promote your brand for maximum exposure. Print ads for example, can be used to direct consumers to a business' social media accounts, which can then prompt further engagement using quizzes, visual content and other interactive tactics.
Generating a hashtag and using it in print ads is another simple way to gain exposure. Hashtags should be short, sweet and simple so readers can easily remember them.
The digitalprint formula doesn't end there. You can add links within printed material to move readers on to digital, including webcasts and videos, PURLs and QR codes, allowing your target audience who consume print media to interact with content on a whole new platform altogether.
Digital print in action
In 2015, music app Shazam extended its features beyond the music realm. Now, instead of only being able to use the app when a song is playing, you can use Shazam much like a QR code during specific sessions to obtain free coupons, website links and other useful information.
Shazam also integrated augmented reality into the app, most notably in a Jaguar magazine ad 'Shazamming' took you to a 360-degree AR view inside the Jaguar.
An example of a hashtag campaign that took off is #likeagirl by feminine hygiene product brand Always. The brand started the campaign to help instil confidence in girls who were approaching or who had reached puberty, while also increasing brand awareness.
Featured on commercials as well as print ads, the campaign proved a massive success, obtaining more than 85 million views on YouTube and reaching more than 150 countries in total.
"The modern holy grail of mass communication may well be the integrated campaign," says SEJ's Tony Wright, and we tend to agree. When planned and executed correctly, an integrated print and digital campaign can help drive results in a powerful way and add the 'wow factor' to your marketing plan.