Why ALL small businesses need a website
Published: 19 March 2012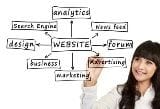 Have an online presence
In this day and age, I am still amazed when I discover businesses don't have a website.
Professional looking websites are now so quick and easy to create that really, there is no excuse not to have one.
We recently canvassed the team at Snap about how they looked for local businesses.
Just about everyone used the Internet for initial fact finding.
Some may have heard about a business through word of mouth but still went to the business website just to 'have a look' before contacting the business. Most were put off by a badly designed website.
Interestingly, one of our contractors told a story about looking online for someone to complete some small scale maintenance jobs.
When she searched 'Handyman' and her suburb, she came across a sole trader who lived two roads away and was also her cousin! She had no idea he did that kind of work.
In the end, she employed him not just for the small maintenance jobs but also a major renovation.
It is just an example of how websites really are great for business no matter what business you are in.
Speak to your local Snap centre about how we can get you started online. Our designers are well trained to create a site that is professional, relevant and fits your budget.