What would Zuckerberg do? 5 smart business lessons SMEs can steal from Facebook
Published: 8 March 2018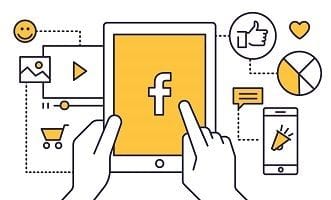 Back in the mid-noughties, 19-year-old Mark Zuckerberg sat in room H33 of Kirkland House, Harvard University and launched his online university social network, thefacebook.com.

Fourteen years later, that idea has exploded into in $500 billion business empire. And its computer science dropout CEO is personally worth over $70 billion.

It's safe to say that Facebook hasn't taken a traditional route to the top. So why has it been so successful and what lessons can you apply to your own business?
Here are six things Mark Zuckerberg and his Facebook team have done better than almost any company in history and they can be replicated by any business.
An in-demand idea backed by a dream and vision
The idea of connecting people in a more open world was what Mark Zuckerberg set out to do. Facebook was:
smart because the digital era had just been kick-started
compelling because the idea had a social relevance in the Harvard campus
timely because it rode the waves of the social media onslaught that MySpace and co had pioneered.
Lesson: Have a one big, original idea that an audience needs badly. And be able to picture your business in five to 10 years time.
Know your strengths and make a business out of it
The team that started Facebook were software masters who focussed on getting their code and platform robust. Adding seminal features such as "Likes" and encouraging users to share "Status" simply caught their fancy.
Once they hit critical mass, Facebook approached investors who saw the business opportunity.
The business continued to expand and acquire once they established themselves.
Amongst the biggest acquisitions were Instagram ($1 billion dollars), Oculus VR ($2 billion) and Whatsapp (a cool $19 billion).
Lesson: Don't spread yourself thin to early. Focus on being the expert in one area and solve the problem better than anyone else before venturing into other areas.
Put people at the centre of the business
A red-hot domain, a great idea and timely funding are all vital ingredients but there's another important lesson that Facebook teaches us. Get the right people onboard.
From software developers to business managers - including Googler Sheryl Sandberg as COO - to. the advisory panel, Mark Zuckerberg realised the benefits of having a blend of brains and experience on his team.
Lesson: Accept that you can't do and know everything. Focus on your strengths and learn to delegate or hire freelancers who are subject experts.
Canadian politician R.H. Grant once said, "When you hire people that are smarter than you are, you prove that you are smarter than they are."
Keep moving, learning and adapting
In the fast-changing 21st century business world, it's critical to:
keep track of the market and audience's changing needs
avoid getting bogged down by setbacks or derailed by failures.
Facebook has displayed these traits since day one.
Showing flexibility in launching and fine-tuning features has been Zuckerberg's hallmark. Facebook was built for social interaction and mirrored all the needs and demands of individuals and the community alike.
The design element of the platform was taken seriously. The core idea of connecting people, visual content and news based on the interest levels of self and friends kept getting improved upon.
Lesson: Don't rest on your laurels. Appreciate that things change so fast these days and you need to keep an eye on your competition, as well as fickle customer moods and needs.
At the same time, don't procrastinate or wait for something to be perfect before launching it. Close enough is good enough. You can learn from testing and the feedback your audience provide.
Be a long-distance runner who gets back up
The journey from a smart idea to business behemoth wasn't a bed of roses for Facebook. Major distractions, challenges and operational mistakes have been part of the ride:
Unfazed by the early accusation on plagiarisation of the idea, Zuckerberg persisted to win a long drawn legal battle even as the business grew.
The 2006 Yahoo offer to buy off the company for a billion dollars was tempting.
His choice of investors ensured they would not strip him off the majority holding or come at the cost of operational interference.
Privacy related issues posed by features like Places and Tag suggestions meant regulatory challenges.
Controversial product launches like Beacon and News Feed demanded rethink and repackaging.
Russian fake news allegations
Lesson: Even the most successful businesses have to weather storms on the way to the top. No matter how great your idea and how quickly it takes off, your business is going to face challenges many of them unpredictable and unavoidable.
Being able to find a way to overcome anything that's throw at you or, at least, handle in a professional and credible way, year after year is as important as everything else you do.
Facebook showed us that all the world-changing business ideas have not been taken and that they can come to anyone, at any time.
And the strategies that Mark Zuckerberg and his team have put in place over the past fourteen years are a template for any aspiring entrepreneur. Now it's your turn.
Author:
Snap Franchising Ltd