What we learnt from website design trends in 2014
Published: 23 December 2014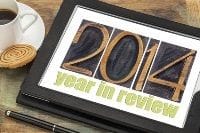 Web design is a constantly evolving art, and 2014 saw a number of new trends rise to prominence.
While some websites stick with basic designs to appease visitors on slow machines or old browsers, others have gone in the opposite direction and produced the most powerful sites they can.
Parallax scrolling
This is when elements move at different speeds, designers can make their sites come to life, tell stories and lead consumers on a path of their choosing normally towards a sale. Good examples of parallax scrolling include the websites for TEDxGUC and numero10. Because of this form of scrolling, many sites have done away with multiple pages, instead preferring to place everything on one long page and let links jump users around the space.
Flat design elements
2014 also saw a surge in flat design use and implementation. Flat design simplifies a page's layout and places the emphasis much more on the content than flashy design. It often goes hand in hand with a minimalist design. This may include reduced colours, lack of shading and lots of white space used to further draw the eye to the most important aspects of a site. While the trend looks set to continue, the biggest problems designers now face is differentiating between basic site sections and the areas a user can interact with.
The rise of videos
As the cost of creating videos decreases, many sites are using them (rather than large lumps of text) to convey important information. Although in some instances it's useful for a user to be able to quickly skim through a document, it's often easier to demonstrate how to do something with a video.
The increased usage of video has been accommodated with a shift away from Flash and towards HTML5. While YouTube embedding still has its place, for websites that want to self-host videos, HTML5 will continue to grow in popularity.
Large hero areas
As internet speeds increase and photo quality improves, websites are opting to place one large, high quality image at the top of their pages. While a slider was previously the go-to option, where multiple images were flicked through, now opting for one telltale picture has become the norm.
Contact Snap for help designing a website that is on trend and will bring your content to the fore.