What social media platform is best for your business?
Published: 3 October 2012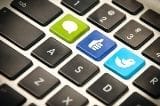 Facebook? Twitter? Linkedin? and so many more...
Most businesses now realise that social media is here to stay and that building a social media presence could benefit their business - but on which platforms? To help you decide where your best opportunities lie, here's a guide to the five most popular social media platforms for business:
Facebook is the most popular social networking service. It's great for businesses of any size and in any industry. Advertise your services, promote events, post photos and videos, run contests, purchase ad campaigns and provide regular updates to connect with your clients.
Twitter provides a fast-moving stream of succinct updates. Limited to 140 characters per tweet, external content, websites and media can be linked to them. Updates appear publicly on the web and in followers' feeds, and permission isn't required to connect with other users.
Pinterest has been shown to convert the most visitors into clients. Consisting of virtual pinboards that users pin photos, videos and any visual content to, it's a great way to advertise products or images representative of your business.
Google+ enables more targeted and personal communication through contact with specific groups of followers. Post updates, links, images and videos, and host web chats with clients. Powered by Google, the SEO benefits and potential for increased website traffic can't be denied.
LinkedIn is a popular social and professional network combined. It features company pages and profiles for individuals. Make new connections, generate leads, find experts in your field, join forums, advertise events, promote job opportunities and post links.
Choosing the best platform for your business
The key to deciding where to invest your time is to know what you really want to get out of social media. Exposure? Sales? Connections? Next, determine where your clients are and which platform enables you to achieve your goals. Do your research and develop a social media strategy, then get online and engage!
Start following Snap today on Facebook, Google+ and Twitter. See you there!