What shoppers want - 7 insights from the latest global research
Published: 27 June 2018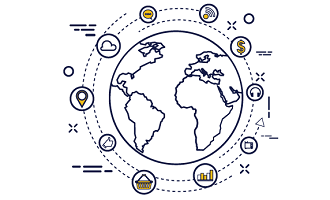 Wondering what you have to do to keep your retail customers happy and lure new ones away from competitors?
Here are seven insights from worldwide shopper research by companies such as UPS, Deloitte, PWC and KPMG that every entrepreneurial retail business owner needs to be aware of.
Last mile experiences as good as the first
Today's shopper has multiple touch points with businesses. At the store, over the phone, in the office, on the web, via email, etc.
Combining these diverse omni-channels and creating a seamless customer experience is going to be a key to success.
One of most challenging and costly is the "last mile" of delivery as consumers want to be able to choose when, where and how to purchase.
Companies like Amazon are leading the way here, on a massive scale. Some of the options opening up for SMEs include:
Uber-type delivery companies, using private drivers and cyclists
Drone deliveries
Large logistics companies offering jump-on solutions for SMEs
The challenge will be to ensure the customer service at the front door reflects your own levels and brand.
Faster deliveries
Not only do they want delivery to be effortless, they expect is quickly.
Shoppers want to be able to order on their laptops and mobile phones as easily as walking into a store or picking up the phone.
Not only do they expect immediate gratification from online products download or get a link sent via email straight away, they expect physical products within days if they are being sent locally. From overseas, a couple of weeks at most.
In a UPS Pulse of the Online Shopper Global Study, over 62% consumers said they expect their products to arrive within two days of purchase.
Better online security
The digital world of shopping and the use of credit cards for online transactions have opened a Pandora's Box of cyber-crime.
More than 50% consumers are concerned about security when making payments via digital platforms.
Businesses worldwide have to take this seriously and invest in cyber-crime resistant software and processes if they want to have customers repose trust in them.
Promote your efforts on your website with seals and stamps from reputable names.
AI Compatible
From assembly lines to chatbots and deliveries, AI or Artificial Intelligence is coming to work to help provide better buying experiences.
There's also a huge increase in the number of automated personal assistants or robots at home. Early movers like Google Home and Amazon Echo are becoming part of the research and purchase journey even making recommendations.
Businesses and brands need to take note of the growing interest shoppers have in blending technology and shopping revolutions to make a difference.
And because people are talking to their machines, it's important to have conversational language on your website so Google can match your 'keywords' to verbal requests.
Personal and unique experiences
Shoppers want more than the products and services they pay for. With so many choices available they expect to be rewarded with personal and added value experiences too.
In fact, over 75% of consumers say they return to a retailer that knows them personally or can recommend their preferred products.
This could be attention and VIP service in-store, online and through marketing, such as loyalty programs, bonus offers, exclusive deals and discounts.
Cost effective technology means small businesses can use data and analytics to help them better acquire and look after customers.
Providing more personal and unique experiences is a vital strategy you should be looking into now.
Expert knowledge
The web is making it easy for shoppers to become knowledgeable before they visit a store or purchase through a website. So easy that 65% of consumers conduct online product research before they buy anything other than everyday basics.
As a result, they often know more about a product, service or problem they face than staff. This is causing frustration and more sales are heading to businesses that offer the level of expertise customers need.
Training customer-facing staff and always keeping them updated is becoming more crucial than ever.
Best deals
Some things never change. The difference now is, price comparisons are easier than ever to do.
Today's shopper is exposed to the widest array of sellers and offers to help make informed choices.
While it's never good practice to compete on price (as people have no loyalty to cheap) business owners and marketers need to be aware of the competition and customer expectations.
Some of the best ways to use price as a sales tool without ruining your reputation for quality are:
spot sales and flash deals (64% shoppers look out for deals)
coupons
loyalty discounts
bulk buying offers.
Of course, price isn't the only measure of 'best deal'.
Offering excellent service, quality products and personalised experiences contributes greatly to perceived value.
Customers are far more in control of their shopping experiences these days. They have more choice and expect more in return.
While it may require extra time, effort and investment to achieve some of these goals, businesses that show they care, will reap the greatest rewards.
Look for ways to start focusing your attention and resources on meeting these needs through your marketing materials, in-store experiences and online channels.
And if you need some expert retail marketing help, talk to your local Snap Centre.
Author:
Snap Franchising Ltd