What's the best printing company for you? 8 things to consider
Published: 28 March 2018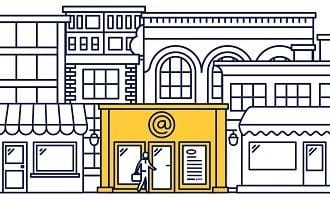 When you're searching for a print supplier for your business printing needs, what really matters? Or are all print companies much the same? Whether you're on the hunt for a printer to look after a single project, or as a long-term partner, here's a question to consider...
How important is the credibility and reputation of your business?
Whether your business is small, medium or huge, it's likely that you believe the way customers, suppliers and partners think and feel about your brand is important to your success.
That's why you, and almost every employer in the world, puts a lot of thought into hiring the right staff.
You know that these people will be 'the faces of the company', representing you to your prospects, customers, suppliers, partners and anyone else who comes in contact with your business.
And they only get one chance to make a good first impression.
Think of your printed materials like valuable employees
In many ways, your print marketing, stationary and other pieces have the same responsibility as the people you hire to work in your business. To enhance your reputation and help grow your business.
That applies wheBrochures and flyers
Posters, banners
Event displays and signage
Point-of-sale material
Direct mail
Personalised calendars, pens and other corporate gifts
Or printed material to communicate with anyone outside or inside the business, such as:
Business cards
Stationary
Menus
Invitations events, weddings, etc
Thank you and Christmas cards
Annual reports and board papers
Tenders
Training manuals
Books and booklets
Like the best people working for you, excellent printed materials play their part in helping your business win trust, interest and sales.
And not just in relation to products and services you pitch to clients, but ideas and information that you want to convey to staff and stakeholders.
On the other hand, poor quality or irrelevant printed materials can do as much damage as having the poor people representing your business.
Best print company checklist
Like hiring people, the key to great print work is finding a supplier who has the capabilities you need, and values that you share.
Here are 8 things to consider when trying to decide, "Who's the best print company for me?"
1.Consistent, high quality print work
When you think about it, the one thing that you can never afford to sacrifice is print quality. Because people judge you very quickly on the standard of the finished product you present to them.
High quality doesn't always mean using premium papers and finishes. It means delivering the best possible print product for the job at hand.
For example, that could be:
low cost stock and one or two colours for a discount sales or event flyer
mid-range stock and full colour images for a service business brochure
premium stock, full colour and embellished finishes for very exclusive occasion
The important thing is that the quality of the printing looks clean and professional, nothing is missing or wrong, and the stock feels appropriate for your brand, campaign or message.
And, that you can count on this level of professionalism and quality every time.
2. Vast print expertise and experience
Some print projects are simple. Others more complex, with bells and whistles to consider, such as unusual sizes, shapes and finishes.
Maybe you want to achieve something that's never been tried before. Or you need something turned around super-fast, with no room for error.
Whatever the case, you'll always feel more confident when the business taking care of your project has:
many years of proven experience and a wide variety of print expertise.
the answers to your questions, recommendations and outside-the-box ideas that could save you time or money - or get you a better result than you imagined.
Today, the level of print expertise and range of services that was once only available to big companies using big print, marketing and ad agencies is available to smaller businesses too.
Minus the big fees. Plus the personal care.
3. One-stop for all print services
When you add up all the different things that businesses print marketing and promotional material, corporate reports, stationary, cards, etc you realise how much time and effort that you can spend looking for different print companies to look after these projects.
Not to mention, finding a talented graphic designer to conjure up a great concept, or take your idea and turn it into something tangible.
It's so much easier, quicker and more productive if you can find one print business to look after all of your print and graphic needs.
You'll benefit greatly because:
the printer will store your details, logos, etc on file
you don't need to start from scratch every time
they understand you, your business, your unique quirks and your turnaround needs
they may be able to offer you extra savings for your bulk buying.
4. Offer latest print technologies and techniques
The world is a competitive place these days, with plenty of printed materials vying for attention and for customer dollars.
To stand out from the pack, you may occasionally want to take advantage of exciting new print technology. Not every print company offers that opportunity. Especially at prices that SME businesses can afford.
Some of the most popular products we print at Snap are created using new machines and embellishment techniques, because they're gaining big returns for our clients.
For example:
Shiny smooth and textured raised finishes
Being able to transform the ordinary into opulent with beautiful embellishments that make graphics, logo or text mysteriously appear to be floating on the surface.

Gold and silver raised printing
Pleasuring reader senses with luxurious gold and silver ink finishes on business cards, wedding invites and more that are soft to touch and vibrant on the eye.

Spot UV gloss finish
Dipping an image or text in liquid-like gloss against a matt background and watching the way it magically leaps off brochure covers, direct mail, business cards and more.

Offset printing - large and small runs
For highest quality, truest colour print jobs such as brochures, business cards, letterheads, tenders, annual reports and much more.

Poster and signage from 1-1000
High-tech machines that produce signs, banners and posters of almost any shape or size, and make them resistant to weather, scratches, tears and curls.
5. Fast job turnaround
We've all been there:
Important client meeting this afternoon and you've run out of business cards
Your event crept up on you and you need invites and marketing material out by tomorrow
The office printer ran out of toner halfway through running off a presentation (and no-one ordered new cartridges)
Your document looks awful and you need a better-printed version asap.
Even the best laid plans and most super-efficient time managers find themselves up against the clock on occasion.
When it comes to print work, you want to be able to know you can call on your supplier to get you out of a bind and trust that they'll deliver on time without sacrificing quality.
6. Rewards for your business
When you're giving your custom to a business, especially on a regular basis, it's nice to feel appreciated and get something in return.

Some print companies offer loyalty programs to regular customers that can provide some good financial and value add benefits.

It's important to check that the program isn't complicated, restrictive, irrelevant or has unattainable goals.

Here at Snap, we are partners in the Qantas Business Rewards program because of how flexible and useful the rewards are to our customers. For example:
both the business and traveller earn frequent flyer reward points
members get exclusive savings and discounts on flights all year round
members can earn points through over 40 other business-related partners
7. Complimentary marketing services
If you're running marketing campaigns today, you need to get your head around a never-ending list of print, design and web options and know which ones work best for you.
And at the same time, do your real job - running the business.
It's been proven that combining print and online marketing can lift sales revenue by up to 30%. So, while it may not be appropriate for every job, it's worth considering.
And, if you do decide to include an online element to your campaign, it's going to be more efficient and cost-effective if your print provider also offers in-house services like:
8. Local, personal service
There's something rewardingly warm and fuzzy about knowing and speaking face-to-face with people who run the business where you buy your print products and services.
When you shop locally, you swap sitting on hold or being transferred around to voices who see you as nothing more than another number for:
personal care from people who know your name
greeting with a big smile
people who will go the extra mile for you
the feel good of knowing you're supporting your community.
And in an age when most of us spend hours every day communicating with people via an impersonal computer or phone, this could be the most precious benefit of all.
Curious to find out if Snap is the right printing company for you? Contact or drop in and say hi to your local Snap Centre today.