What's in a name?
Published: 4 April 2013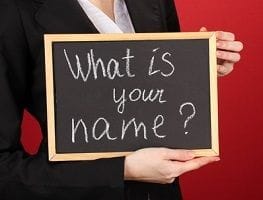 Invest some time and think it through
Picking a company name is an important decision that can have lasting effects on your business. While it is possible to change it down the line, this can be a costly and time-consuming venture, so it pays to get it right the first time.
Don't limit yourself
Although you may know what you want your business to provide right now, don't be too descriptive of your services or your location in your name. Later on, when it comes time to expand, you may find it no longer fits and you'll be left with a huge
rebranding
task and a big bill to change your site, marketing materials and store signs.
Check online
Before finalising the name, have a look online. A quick search will show you any other similarly named companies, which is a sign you may want to have a rethink. Also check that the domain you want to register is available as well as accounts on Twitter, Facebook and other social media sites.
Double-check the meaning
There are no spaces in web addresses or usernames, so make sure that if your name has two or more words, they don't form any risqu double meanings when joined together. Many businesses have fallen foul of this rule, so make sure to double-check all meanings before registering a domain. Also check that any obvious abbreviations don't leave you red-faced.
Don't be afraid to get creative
There are more names, words and terms trademarked today than ever before, and this is only going to rise. To get around this problem, some companies make up words for their names. If you go down this route, it's best to create a word similar to a positive one that's related to your company or industry. Also think about design if you can come up with a word that can stylistically work as a logo, it can really help your branding.
Contact your local Snap Centre for help with your print, design and website queries.