What is branding?
Published: 20 February 2017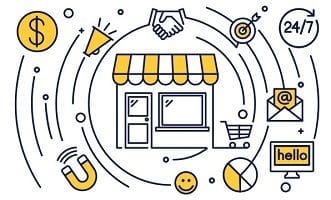 How to build a small business brand your audience loves
If you run a small business, you've probably heard plenty about the importance of building your brand. What you may not have heard so much about, is what building a brand means. At least in language that anyone outside the marketing bubble can understand. So let's fix that for you right now.
Building a brand is simply gaining the unwavering trust of your audience
Not just through words or the logo you use, but your actions.
Think of Amazon, Apple, Dove and Nike. Yes, you know their names, logos and maybe even their slogans. But that's because all of these businesses are trusted emphatically by their target audiences - for the way they go about their business as much as they way they promote the business.
Nine ways to build your own trusted brand
While you can't build a brand overnight, the fastest way to do it is to keep satisfying your clients so they'll come back over and over, and tell their friends they should too. Uber and Air BnB are proof of that.
But before, and while, you are delighting customers, there are some other pieces to the puzzle that you need to work on.
1. Define what your business stands for
You should review your product/service, your market and the needs of your customers. How do you help them? And what's your big picture goal?
Dove believe in the importance of every woman feeling good about herself. Nike bring inspiration and innovation to every athlete in the world (if you have a body, you are an athlete).
Your brand should be able to connect with customers and make you unique in the market.
2. Have a bigger reason
Look for a way to give back to the society by associating your brand with something important in the big scheme of things. Make sure it's something you are truly passionate about and believe in.
Maybe that's saving the environment, helping people in need, providing an opportunity to someone. You can then fund or sponsor the cause you believe in.
3. Picture your brand as a person
This is a great way to visualise your brand and bring it to life. If you imagine your business as a person, you can think about characteristics and plan your strategies accordingly. Is it you? Is it an employee? What would your audience want from you? Is the brand fun, compassionate, reliable? What type of person would your audience think is trustworthy and likeable?
4. Think about your relationship with your audience
As discussed, branding is about building trust. What can you do, say and provide to your customers to help them think of you as a trusted friend or business partner? Someone they want to come back to again and again over a long time. Someone they would comfortably put their own reputation on the line for with people they know by recommending you.
5. Don't mimic others
Don't fall into the trap of trying to imitate a successful brand whether they're in your industry, or another. You can admire the way other companies do business and the brand, morals and characteristics they display. And even bring qualities from different businesses into your own brand.
However, you don't want to be remembered as the poor man or woman's version of X. Be unique and stand out. Like a person, your brand will be more powerful, memorable and effect if it's a one a kind.
6. Go beyond your logo and slogan
A logo is a tool of identification, but it's not your brand. You can make the design part of brand building. For example, use quizzes and contests to introduce your brand. Or create intrigue through interactive content, such as asking customers to participate in logo design or to help choose a logo if you are rebranding your business.
7. Be personal, yet professional
A personal touch can work wonders for a brand especially in a social media friendly world. However, while some brands are about fun, the most successful ones don't sacrifice professionalism for overly personal and informal.
Even though Luna Park is 'just for fun', they value and look after customers as any professional business should.
If you're too casual and familiar, over the time, people will associate your brand with those traits and may not take your business seriously.
8. Deliver value others can't
You need to offer something valuable and unique it could be emotional aspects like such as good customer service, or lower prices and good after sale services. Dominos deliver in under 30 minutes or your money back. DoggyVakay.com help you find a loving dogsitter. What's the reason people should work with you?
9. Keep innovating and adapting
Great brands don't rest on their laurels. They move with the times. They make mistakes some are more costly than others and learn from them. But they always strive to match the changing needs of the customer. And that's when the pros and profits significantly outweigh the cons and losses.
The key to good brand building is to understand what's important to you and what's important to your audience. Then make everything you do about where the two of you meet.
If you need any help creating, adapting or reinventing your brand, the Snap team are here to help.