Website design tips to remember
Published: 19 December 2016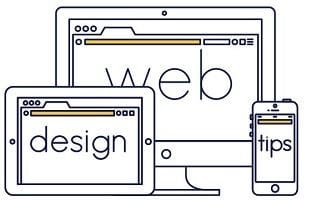 10 website design tips you can't afford to forget
Designing your new website can be challenging especially when you learn that most people will give a website less than 15 seconds to impress before they read on or click out the door.
So before you design your next website or get help from a professional take note of these important things to remember.
1. Have a goal
When planning a new website, before you finalise on the design and layout, you should first understand the goal and objectives of your site.
Depending on whether your site is to offer professional services, generate leads or focus on selling products online, the design may change.
For example, an online portal may need to be easily navigable, have prominent call to action buttons and incorporate SEO, while a website designed to build your brand may have to have an active social media program and reputation management with less emphasis on sales funnels.
2. Know your target audience intimately
This goes beyond the demographics of things like gender, age, and location. You need to know what's going on in their minds. How experienced and knowledgeable are they about your industry, your business, your product or service? What are their greatest problems and needs that you can solve?
For example, two 30 year women may seem logical in the same audience group. However, they may have a very different problems that need solving, and knowledge of how to solve them. So you need to create separate relevant content to help each one.
3. Looks count
Your website is often the first sales representative your audience meets. So it's important that your site conveys the right first impression. A visually appealing website will attract and hold attention, and is the key to getting your visitors engaged with your content.
But what are the components that go into a visually appealing web design?
4. Create a clean, uncluttered page
A clean design allows the elements to stand out. From functionality and appearance to navigation and coding integrity, a lot goes into creating an eye-catching, user-friendly website.
Make sure that the pages are not packed with walls of words. Give it some white space. Plus too many graphics, photographs and calls to action draw the visitor's eyes away from the important message.
5. Choose the right colour palette
Your site's colours should convey your company's individuality and brand. Weave your company colour schemes in your design so it's not confusing or clashing with other materials and themes.
6. Pick an easy to read fonts
Fonts without decorative finishes, like Sans Serif fonts, are usually easier to read online. The ideal font size for reading easily online is 16 pt and stick to a maximum of 3 typefaces in a maximum of 3 point sizes to keep your design streamlined.
7. Use original images
Try to avoid stock images on your website, especially really obvious or bland ones. It looks cheap and untrustworthy. If you are showing people or products in your business, or clients of your business, invest in a photographer to take some quality shots.
8. Look good on mobiles
With more and more people using smart phones and tablets these days you need your website to fit in with the needs of all gadgets. A responsive design allows your website to adjust to the size of the screen whether it's been viewed on a phone, tablet, or desktop.
9. Ensure your navigation is easy to follow
Having a visually appealing website means nothing if your customers can't navigate their way around it. Include clearly titled navigation tabs that direct people further into the site and increase your visitors' ability to find relevant information more quickly.
You may want to do some simple usability tests up front. Get a few people from your target audience to complete a task on your test site. Watch and listen to them as they move through the site, deal with confusion, etc. It can be incredibly insightful and valuable.
10. Spy on your competitors
Checking up on the competition can help you improve your own design. Do a SWAT analysis of a few different sites. Take on board some of the good things and look at ways to make them even better on your site. More importantly, what are they missing that you know the audience want or need? This is where the real opportunities lay.
If you need to create a beautiful and functional website, simply keep these design elements in mind. Or if you need professional help in designing your website, click here.