Why should you consider signage to increase the visibility of your business
Published: 30 January 2023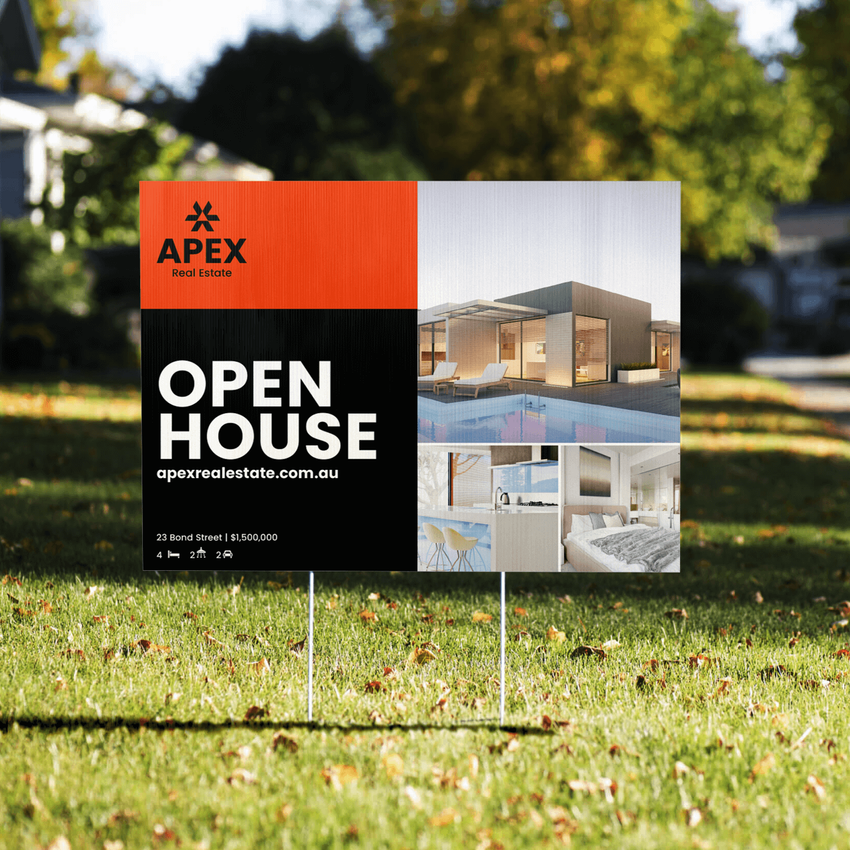 The importance of visibility for business
If your business is having a sale, promotion or announcement, you want to ensure that your customers know about it. The best way to do this? Curated signage with punchy messaging and bold design that tells people exactly what you have on offer. Although, such signage can be expensive if the sale or promotion is only temporary. At Snap Print Solutions, we offer a cost-effective solution to this problem with our corflute business signs, which allow you to grab your customers' attention for a fraction of the cost of a permanent sign.
Corflutes: effective and cost-efficient
What is corflute?
Although the name may be unfamiliar, this signage material will look very familiar from high school projects, used car lots, cafes and hospitality venues, political advertising, mood boards, or construction sites. It is a plastic that resembles corrugated cardboard - specifically, two thin sheets of polypropylene separated by a corrugated piece of the same plastic. It has a white, ribbed surface and comes in varying thicknesses, from 3mm, to 5mm and 8mm.

The benefit of using corflutes for marketing
There are many upsides to using corflutes as your business' signage and first-point-of-contact marketing, and they include;
Cost-effectiveness, as it is a cheap material to manufacture and is designed for short-term use

Durability, as corflutes are waterproof due to their plastic exterior, which means that water will roll off it in the event of rain. Inks used on corflutes are also fade-resistant in sunlight

Convenience, as they are easy to install in outdoor areas as they are lightweight and can be attached to any flat surfaces using glue, screws, nails or tape

Personalisation, as corflutes are lightweight and can be cut into any material and/or have any design imprinted onto them - including high-quality printing of dark and bright colours

Time efficiency, since they are an easy material to print onto and can be turned around at printers often in under 24 hours
Example use cases for corflutes
Corflutes are very commonly used for marketing and advertising purposes. Some common examples include;
Political advertisements or banners in local council areas,

Temporary signage for construction sites,

Used car lots to display costs,

Hospital venues to display specials or menus,

"For sale/rent" signs at properties,

Real estate advertising,

Event signs to advertise and comunicate information to attendees (eg. parking locations),

Birthday parties, weddings or other personal events
Tips for using corflutes to increase visibility
Choosing the right size and placement
Ensure that customers' attention will gravitate towards your signage by carefully considering the size and placement of your corflute sign. Consider what point of view people will be seeing your sign (e.g. as they're driving their car, whilst they're walking on the street or attending your event), and place the sign where it will stand out the most, in a size that no one can miss.
Designing effective corflute graphics
One of the key benefits of corflutes is the ability to put them through high-quality printers with a broad spectrum of colour palettes - which will endure in the sun and open environment as polypropylene is fade-resistant. Use this to your advantage by ensuring that your sign has bold colours and messaging that stand out and encourage customers to take action.
Grab your customers' attention today with a carefully curated corflute from Snap Printing!
FAQ
What is corflute made of?
Although they resemble cardboard, corflutes are indeed made of plastic - specifically, corrugated polypropylene most often in 3mm, 5mm or 8mm width.
Is corflute recyclable?
The plastic that corflutes are made from, polypropylene, is too soft for ordinary recycling bins and, as such, is not recyclable. However, its durability means that it can be reused and repurposed ample amount of times.
Is corflute waterproof?
Yes, because they are made from plastic, corflutes are waterproof. However, because they are so lightweight, they are not entirely windproof.
How durable is corflute?
Corflutes are very durable given how cheap and lightweight they are. Rain will roll off their plastic exterior, and the sun will make no difference to its quality as inks on this material are fade-resistant. However, they can be bent in extremely windy conditions.