Web designing for service businesses - 7 must-have ingredients
Published: 11 June 2018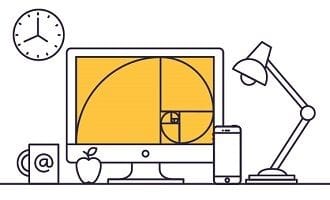 If you're an SME service provider, such as a beauty therapist, lawyer, tradie, consultant, etc you have unique challenges that product businesses don't face. Customers can't touch your offering (even if it makes them feel good), so it's harder to sell its value.
This can make the risk of doing business with you seem higher to a potential buyer.
That's why web designing for your service business website needs to highlight your brand's credibility, benefits and success.
To win new customers, and keep loyal ones coming back, here are seven essential ingredients you should include in your professional services website.
Start with a meaningful header image
Visual communication plays a crucial part in our lives. It's said that we trust things we see more than the things we hear or read about. This instinctive trust makes us believe images on websites.
Include a picture of you helping a client or the outcome for the customer. If people see your service in action, it feels more credible and believable.
Use a clear, high-resolution header image at the top of the homepage to make a big initial impact and give new arrivals a glimpse at how you can positively influence their lives.
Put contact/opt-in forms above fold
People often make a decision to stay on or leave a site while they are still looking at the top screen. If they click away at this point it doesn't mean they aren't interested. They may just be busy or dropping in for a quick peek.
When designing your website, add a contact form/opt-in form on the top half of your page. That way you give more people the opportunity to enquire. Or they can receive newsletters and promotions that allow you to build a relationship and show off your expertise.
Use a fresh, responsive website design
First impressions count for so much on a website, especially when you don't have the chance to add your face-to-face charm to your sales pitch.
Your website needs to look modern and work well on every device including mobile phones. A good web designer can create a new site or tweak your existing site with things like new pictures, colour combinations and different fonts.
If your site looks old and outdated, chances are your clients will think your services are too. Remember your site is a virtual representation of you it should be sleek and appealing.
Add your social handles
If you don't have social network pages, now is the time to set them up and link them to your site.
As part of your web designing process, display relevant social pages (such as Facebook, Twitter, Instagram, LinkedIn or Pinterest) clearly so customers can click through and learn more about you, your team, business insights, etc in ways that aren't always easy to pick up from a website.
You also want to make sure that when a new visitor clicks to your icons, they see some recent activity. You can even have latest feeds and mentions from social pages appear on your website.
This is another reason to engage with existing customers on social posting regularly, answering customer queries and offering help wherever needed.
If a potential customer sees this, they feel you care about your audience and are easy to contact if needed.
Highlight social proof/testimonials
No-one wants to be that person who tried a business first and then got ripped off or bad service and wasted their money. They want someone else to validate their choice.
That's what social proof is all about be it a Like on Facebook post or blog article, feedback or star rating on a review site, or a testimonial to say, "These guys are great and I'm happy to put my name and face to a message saying so".
In the old days, we relied on word of mouth for this. Or hoped for the best. In the age of the internet, social proof is as powerful as any copy or visual elements in your website design.
Social proofing is a great way to show your knowledge and experience. Some social proof examples you can include in your web designing elements are:
The social shares of your blog articles
'Join 6,000 fellow pet lovers on our mailing list'
2,870 reviews on yelp with a 4.6-star rating
If you're showing off testimonials, make sure they are easy to see and focus on the benefits you provide or results you achieved, rather than what a nice person you are.
Simply stroking your ego won't boost business.
Promote your location
When people search for local services on Google, the search engine needs some help to work out which businesses to show first. Some of this comes down to the content on your site, number of reviews you have, etc. But a big influencer is how prominent your location information is in your web design.
For instance, if you type 'chiropractor near me/in (suburb)' the result should show chiros close by, based on the details on their site.
So geotag your site so that you come up in relevant search results. Even better, add locations on other platforms like Google My Business, Yelp, Trip Advisor, Social Media and so on.
Easy navigation to service details
When people a first arrive on your website they want to know:
What does this business do?
Are they credible?
Does it sound like the right place for me?
Where do I go now?
The tips above can help them answer the first three questions. The last question comes down to your site navigation and prominence of access to services on your homepage design.
Whether its links in your navigation or highlighted boxes with icons and teasers that take people straight to your most important service pages, you can't leave people wondering what to do next.
So, as part of the web designing process make sure people who have never visited your site before can understand and find your services pages quickly and without confusion.
A good website can be one of the most powerful relationship building and sales closing tools any SME services business can have. Including these web-designing best practices can greatly help you convert curious first-time visitors into leads and happy first-time buyers.
And if you'd like some help from a web designer with years of experience creating professional services websites that build business and sales, visit your local Snap Centre today.
Author:
Snap Franchising Ltd