Want to be more efficient? Here's how
Published: 6 March 2014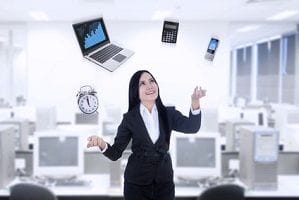 When at work, most of us would like to be more efficient and better manage our time.
Why not actively try to switch gears with these four mind hacks to help you do just that.
1. Shrink your deadlines
If you tell yourself something is going to take an hour to do, it's probably going to take an hour to do, even if you have the capacity to get it done in forty minutes. Shrink the deadlines on your tasks and watch yourself power through the day. Just be careful not to be hard on yourself if you don't meet your deadlines on everything!
2. Selectively multitask
To truly function at your most efficient, sometimes you need to dedicate your full attention to the task at hand, which can be impossible if you're always attempting to do more than one thing at a time. Prioritise important projects and give them the time they deserve. You'll feel accomplished when it's completed, then can move on to the next as required.
3. Change your environment
Just can't think your way out of that problem? Go out for a walk with a colleague or by yourself and think it through in a new environment. Often the physical change will prompt a mental shift that will help you reach a solution.
4. Use your non-dominant hand
Want to take a different approach? Research shows that forcing yourself to use your non-dominant hand to perform tasks like driving your mouse or brushing your teeth can stimulate neural connections and help our ability to process information and perceive it. In addition, it can help strengthen self-control, which is likely to improve your work ethic and even decrease frustrations.
Contact your local Snap Centre to see how we can help your business become more efficient.