Want some business tweet-spiration?
Published: 10 October 2013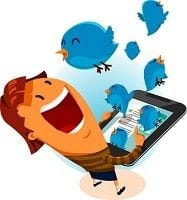 Finding quality tweets
In October 2012, Twitter CEO Dick Costolo boasted that the micro-blogging network racked up an incredible 500 million tweets every single day.
Given the sheer volume of 140-character musings, it's hardly surprising that there's a significant amount of run-of-the-mill activity going on out there. Sifting through to find the gold can be a bit of a task, so we've done the hard yards for you.
Read on to discover some of the most informative Twitter users for business owners to follow. Ready to get inspired?
@richardbranson
The quintessential entrepreneur, Richard Branson is as engaging on Twitter as you would expect. He also answers fans' questions every so often with the #askrichard hashtag.
@tonyrobbins
A great all-rounder, entrepreneur and author, Anthony Robbins offers up a mix of inspirational quotes, retweet-worthy links, business advice, and health tips.
@BrendonBurchard
Author of The Millionaire Messenger and The Charge, Brendon Burchard, tweets a perfectly curated collection of quotable quotes.
@problogger
Melbourne native Darren Rowse has become one of the world's authorities on writing for the web he's your go-to for web marketing and social media advice.
@DynamicBusiness
As one of Australia's best online resources for all things business news and advice, Dynamic Business's Twitter feed is an obvious must follow!
@SuziDafnis
Suzi Dafnis is the community director and CEO of the Australian Businesswomen's Network, and tweets a mix of quotes, links, and pieces of advice.
@SilkCharm
Laurel Papworth is Sydney's own social media goddess and was rated a Forbes Top 50 Influencer. You'll get all the latest social media news amongst entertaining personal musings.
@copyblogger
Brian Clark, CEO of Copyblogger Media, tweets a charming mix of personal musings, jokes, and content marketing resources.
@ericknopf
Some of the best Twitter feeds are nothing more than a curation of content on the web this is one of the best examples!
Contact Snap to learn more on how we can help you market your business online.