Visual Identity
Published: 5 July 2016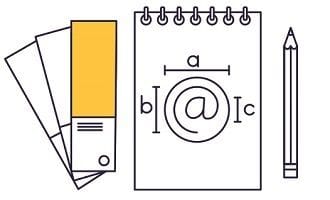 How does visual identity become out of date?
You know when you catch up with an old friend you haven't seen for years and you're thinking, "My goodness, he/she looks older!" In your mind's eye, you expected them to look the same as the last time you saw them, you weren't ready for those extra lines or a few extra pounds.
Of course, your friend might notice you've changed a little too. The same applies to your own company's visual identity, it can become so familiar, you don't realise when it might be time for a change.
You might still love the look of your visual identity, but it's important to remember you aren't the target audience - your clients or potential clients are. In truth, it's hard to recognise when visual identity becomes out-dated; nevertheless, fonts, colours and logos gradually go out of fashion just like, well, fashion.
What you need to avoid is your business looking about as cutting edge as ultra-wide lapels and shoulder pads, unless you happen to be aiming for the retrocool market.
When do you need to make a change?
You should be aware of how your business is perceived. If you aren't sure, just ask your business colleagues, friends, or customers and gauge their reactions.
Other good reasons to change are when you want to alter your business model, introduce new services or models, or when there's a cultural change within your organisation. Naturally, there should be good business reasons behind any major development and it's important these transitions are communicated to the outside world. When you become a different company, your visual identity should reflect that to maximise the opportunity.
Is a refreshed visual identity different to a re-brand?
A refresh, as the word implies, isn't a total rethink of your existing visual identity, it's just a way of giving your business a fresh, contemporary look.
Whereas, a re-brand can include a new brand name, totally different fonts and colours, new images to give your brand a completely different impression to your target market. So, when you want to ensure the outside world understands your company has made a major step change, a re-brand is highly appropriate and probably necessary. Needless to say, a re-brand would cost considerably more than a refresh.
A refreshed visual identity can include a more modern take on your logo (but still remaining familiar in essence), with revised fonts, an expanded or revised colour palette and, in today's world, it would also mean an updated website, in keeping with current useability and style.
Not just a new look
A visual refresh is far more than just a new look though, it can represent to your clients, and potential clients, how your business is still relevant, self-aware and competitive, rather one that is standing still. What's more, it can help motivate yourself and your staff to go on to achieve even greater things in the future.
To find out how you can keep your brand updated, contact your local Snap Centre today.