Vinyl printing 101
Published: 13 May 2019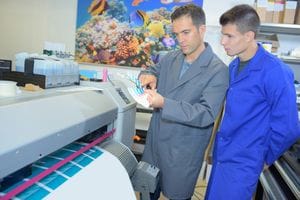 Self-adhesive film is a popular method for bringing banners of all shapes, sizes, and purposes to life. In most cases, they are made from vinyl. So, whether it's for trade show displays, part of your flagship store décor or out-of-home (OOH) advertising, you will likely want to make use of it at some point.
What is vinyl?
Vinyl is made from polyvinyl chloride, also known as PVC, which is one of the most commonly produced synthetic plastic polymers worldwide. Due to its immense versatility, the material has found application in all kinds of industries including construction, interior design, packaging, medicine and transportation.
While all vinyl variations essentially use the same base ingredients, they contain different additives to pronounce qualities for example, flexibility or rigidness. In print, vinyl is often used for promotional purposes such as signage, OOH advertising, window displays or vehicle wraps.
There are two kinds of vinyl film that are commonly used in print: cast vinyl and calendered vinyl. Both variations have different key characteristics created in the manufacturing stage that influence your print outcome.
Cast vinyl film
Between the two, cast film is considered the more premium product due to its longevity and conformability. These features are especially important for prints likely to be exposed to the elements for longer periods of time.
When casting film, the ingredients are first combined in a mixing churn and set aside until the mix has reached the desired texture. The key here is the grade of plasticiser (softening agent) used to increase the mobility of the film. The final product, called organosol, is then poured over a moving casting sheet and then 'baked' in a series of ovens. This helps the moisture evaporate and allows the mass to form a solid film.
In the final step of the manufacturing process, the film is finished with an adhesive coating that will make your print stick firmly to nearly any outdoor or indoor surface. Once your design is printed, the product should be able to withstand the elements for about five to eight years.
Calendered vinyl film
Calendered vinyl is considered more of an economic solution, which is reflected in its quality and overall lifespan of one to five years. Calendered vinyl uses the same raw materials as cast film but no plasticisers are added to the mix, resulting in firmer, more dough-like texture once all the ingredients are mixed and heated to a molten state. The vinyl 'dough' is then pulled through a die and rolled out into a thin film by a series of calender rolls where this type of vinyl gets its name from.
Unfortunately, since the film is stretched into shape, it's less flexible than cast film and more prone to shrinkage or breakage when in contact with heat or extreme weather conditions. However, thanks to the fast turnaround time of calendering, the production is relatively inexpensive. This makes it ideal for bulk printing jobs where your artwork isn't stretched or has to contour around corners.
The unique qualities of vinyl can make your artwork look good for longer. This makes the printable film an indispensable promotional asset for your business.
Contact our experts to see if your local Snap Centre offers vinyl printing for your project.
Author:
Snap Franchising Ltd