Video testimonials - why you need them on your website now
Published: 11 August 2016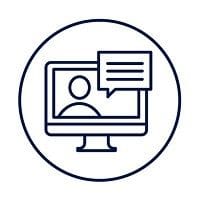 Client testimonials sell. That's a fact.
Here's another one. If you aren't using customer praise to sell your products, services or overall business, you're missing out on sales and profits.
Why? Because customers place far more value in what other customers say about a business than anything a business can say about itself.
Just think about why you buy a book through Amazon, choose a hotel on Trip Advisor or snap up a gadget from a particular supplier on eBay.
You feel more confident in the product, service or business because previous customers assured you that you've picked a winner through their feedback and testimonials.
And the stats don't lie.
Survey says...people online love recommendations from people online
89% say testimonials are the most effective type of content marketing (WebDAM)
Online reviews increase conversions by 74% (People Claim)
79% of online shoppers trust online reviews as much as recommendations from friends and family (BrightLocal)
Seeing and hearing is believing
With easy access to high quality videos, even on cell phones, video marketing is elevating online business communication to a new level. And nowhere more so than in testimonials.
Knowing how to use video testimonials as part of your marketing will help you connect with your audience better than competitors and convert more browsers into buyers.
Why are video testimonials so effective?
Whether it's endorsing your business, promoting a new product through video ads, or building Likes and Followers on Facebook, meaningful and convincing video testimonials can encourage potential customers to take that final hesitant step.
People love watching videos
Simply by using video, you give your business appealing advantages:
One-third of all online activites is watching video - we can't get enough!
Humans process images 60,000 times faster than words
Video is novel and makes your webpage more interesting
People interact with your content just by clicking play
Videos have been known to boost landing page conversions by up to 80%
Add your website testimonials to YouTube and they could be seen by thousands more potential customers in a short time
Of course, like all marketing, video only works if it looks appealing and contains the right message.
The power of trust and emotional connection
Whether customers are raving about how your product helped them, or the great service you delivered, video makes their shared experience feel more personal and authentic.
With both vision and audio at work, you're appealing to extra senses. It's different and interesting, so people are more likely to pay attention.
Video testimonials increase trust too. The honesty of a customer, telling their story as though they are right in front of the viewer, can be a powerful way to connect with site visitors.
Word of moving mouth adds trust
Video testimonials also work because the audience see a person who has been in their situation, with similar problems and needs. They're relatable.
Through client testimonials, you're not just answering important questions, you're transforming your sales pitch into a credible, unbiased recommendation.
Written testimonials don't deliver that same personal touch. Some people even think they're made up (and they're not always wrong).
Video testimonials make referrals and recommendations tangible, giving them an honesty and attribution that's lacking in print and pixel.
Conclusion
Adding video to your website takes the power of word of mouth marketing to a new level. Now is the time to see how and where you can make video testimonials work as part of your online sales, marketing and branding building strategies.