Using social media for small business marketing
Published: 11 January 2012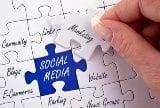 Utilise free Social Media platforms
Our guest blogger this week, Daniel Garvey owner of Snap Liverpool, shares how he has embraced social media to connect with customers and promote his business.
Can social media work for your small business? Absolutely yes if you are willing to get to know your customers and spend a little time each day managing your social media presence.
At Snap Liverpool, we are part of a national franchise network which means we are able to take advantage of Snap's national marketing tools but we can also do our own local marketing. As part of our local marketing efforts, we have embraced social media.
We now have our own Facebook, Twitter, Google+ and LinkedIn accounts and have delved into YouTube and FourSquare all linked with fortnightly email marketing newsletters.
As well, we actively maintain and monitor our Google Places listing and similar online directory listings.
We do this because we have found our target market in our local area were happy to connect using social media.
Last month we ran a two-week promotion solely through social media and the results were impressive.
The campaign gave away 100 free business cards all people had to do was follow us on Twitter, join our mailing list and message us on Twitter with the sentence "I want some free business cards! #HelpingSmallBusiness"
We had a lot of good feedback and we were able to directly track the campaign's success.
Twitter :
86 Tweets specifically about the offer
696 landing page hits
1 email newsletter sign-ups
Facebook:
4 Facebook Messages specifically regarding the offer
21 landing page hits
LinkedIn:
14 LinkedIn Updates specifically regarding the offer
113 landing page hits
We received print and social media work worth thousands of dollars as a direct result of the campaign. So while we didn't have the email newsletter sign-ups we expected, the promotion was still worth running.
To do social media well you need to invest time to maintain your accounts but not a great deal.
I probably spend an hour a day maintaining Snap Liverpool and client accounts, responding to comments and looking for relevant information online.
I find it is a great way to connect with people and communicate the range of services we offer. It is cheap, easy and you don't need to be a computer expert to get involved. My advice is to do some online research and take it easy. And, of course, for email marketing and website advice, contact Snap!
Snap offers a range of online marketing solutions that can be linked to your social network accounts, such as e-newsletters, websites, digital design and video. For more information contact your local Snap centre.