Using branded calendars to connect
Published: 17 December 2013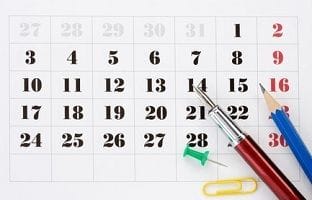 Be front of mind all year round
Despite all the online calendars in the world, the popularity of physical calendars and diaries has not waned one bit. The calendar remains very much a presence in people's homes and is still a viable marketing tool for businesses.
Is a calendar right for my business?
If you have a core group of clients you'd like to gift, the calendar is a great way to reward their loyalty and get your brand in front of your client all year round.
Creating a calendar that works
Consider your audience: If your clients are traditional businesses, a simple yet well-designed calendar will suffice. If you're a fashion brand looking to gift your biggest clients, something a little more creative will mean your calendar will wind up on the wall, not in the trash.
Use dates: Rather than just throw your logo in the corner, take a more integrated approach and put a note on dates that your sales begin, or any seasonal products you may sell.
Personalise it: If you have your client's birthday on hand, include a discount code on the date of their birthday.
Employ a professional: Yes, you would save a little money initially by creating a calendar without the help of a designer and printing it at home, but the likelihood of that calendar hanging on a wall and surviving the year is extremely low. Get professional help from a print and design specialist for a real return on your investment.
For help designing and printing your calendars for 2014, visit your local
Snap Centre.