Using an eBook to boost your market share
Published: 6 January 2015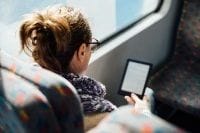 Companies will often focus on marketing techniques that have a direct benefit to their business, but indirect strategies can be just as valuable.
Creating an eBook may not only strengthen your brand, but also create leads and improve your site's SEO.
Establish yourself as an expert
With so many informative blogs and eBooks available across every industry already, it's pointless keeping all your knowledge to yourself. Instead, showcase what you know by adding something new to the conversation or take a unique angle to differentiate your business from the competition. High quality eBooks get passed around, so as yours circulates your company name will be seen on countless screens.
Provide something of high quality
Your eBook is a reflection of your company, and therefore it should be of the highest quality. Don't skimp on design or writing costs after all, once it's finished, there are no additional fees. Most importantly, make sure you give enough information. Once your reader has finished your eBook, he or she should know enough about the topic to take action or feel confident sharing their new knowledge with others.
Don't use it as a sales tool
While it may be tempting to throw in a few calls to action or talk up your business and its products or services, it's important you avoid these ideas. People want to read eBooks for information if they feel like they're being pushed into a sale, they'll stop reading and keep clear of future releases. Instead, if your eBook is educational and includes just a small credit to identify your company, you'll boost your brand and likely see people download more of your work.
Improve your SEO
One of the best ways to attract leads and improve traffic to your site is with good content. People on forums will often ask questions that can be answered in your eBook and blogs, and online publications may review it both of which are likely to link to a high quality product found on your site.
Increase your email marketing database
There are many ways you can provide people with access to your eBook. A free download is the preferred option for readers, but if your book and your reputation is good enough, you can also sell it or email it to people who sign up for your newsletter. Often companies will request an email address for a new release and then move it to a free download section once it's been around for a while.
Contact Snap to discuss the different marketing materials you can use to boost your business.