Use heatmaps to improve website conversions
Published: 14 September 2015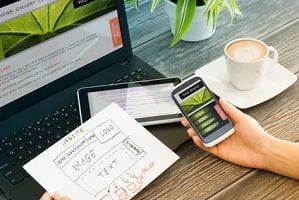 Heatmapping can help you discover real insights into the minds of the people browsing your website.
This information can then be leveraged to your advantage, creating conversions.
Highlight the good and bad
By highlighting all the places where users are taking action, heatmaps are an excellent tool to identify which elements are working and which are failing to spark interest on any given page.
A scroll map, which measures how many times each part of a page is viewed in a user's browser, can also provide a valuable understanding of which parts of the page currently capture attention.

Together, these maps make it very easy for you to identify problem areas. Are there large portions of your page that remain untouched? Does that happen to be exactly where you've placed your call to action? If so, it's time to rethink your page design to ensure you're highlighting the most important areas and strategically place them where your audience is spending the most time.
Top three heatmap tips:
To get the most out of heatmapping, be sure to limit your study to just a few pages the ones where conversions are most important, such as your top landing pages or checkout pages. This will allow you to really drill down into the most valuable insights and save you money.
Many heatmapping applications allow you to watch individual recordings as well as an aggregation of all users. These can make for very useful viewing, as they give you a good idea of the way users journey or 'flow' through your pages.
Once you've tweaked your pages based on the findings, don't forget to re-test them to ensure you've fixed any problems and your results have improved.
Go forth and improve your pages
Use the information generated by heat and scroll maps to completely remove the guesswork from your web optimisation plans and boost your conversions in no time.

If you're ready to revamp your website, get some great support by contacting your local Snap Centre today.