Use enticing invitations to boost attendee numbers
Published: 24 August 2015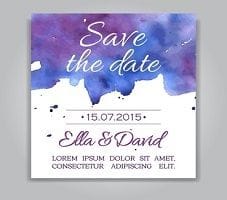 Say goodbye to poorly attended events by designing fabulous invitations.
A perfectly designed, informative and enticing invitation is the key to a popular event so don't leave a single element to chance.
Get your wording right
It's not enough to simply say "we're having a party/event/conference and you're invited". An invitation should have just as much impact as your top advertising content. Create powerful incentives for attending through your language, with punchy headlines such as:
"Learn the secrets of success in one afternoon"
"Meet the biggest movers and shakers in the industry"
"Get exclusive offers and opportunities"
Include attendee benefits
As well as a strong headline and all the essential information about the event, be sure to also include a few of the benefits of attending whether those are based on the location, food, freebies or access to industry experts.
Invest in quality invites
Give potential guests a great impression of your event by investing in quality printing, design and paper. A flimsy invite with low-resolution printing will immediately flag an event as unimportant, while rich ink on quality gloss and matte paper will signal the opposite.
Encourage interaction with response cards
One great way of giving guests some motivation to get back to you is to include a response card including anything from menu choices to goodie-bag preferences. This not only allows you to plan your catering and staffing needs, it ensures a higher RSVP rate.
Offer seating options
Alternatively, ask attendees for information about who they'd like to be seated nearby. This allows you to allay fears that they might be stuck with people they don't know while also highlighting the usefulness of the event as a networking opportunity. Release an attendee list once you've firmed up your numbers for a perfect pre-event reminder.
A bright, bold and concise call to action is the essential ingredient for all invitations. Include a number of ways for guests to respond via phone, email or online and consider an early-bird offer to encourage attendees to book quickly.

For help putting together the perfect invite, contact your local Snap Centre today.