Tumblr for business
Published: 12 September 2013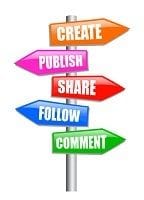 Could my business benefit from Tmblr?
Tumblr is unique in social media marketing for two key reasons. It not only boasts a highly engaged audience, it also offers the ability to access content directly, meaning it is picked up by search engines and can therefore increase your search visibility. Sounds good, right? But before you start brainstorming your Tumblr username, read our guide on how to succeed with Tumblr for your business.What is Tumblr?
Tumblr allows you to share text, photos, quotes, links, music and videos in a blog format. It's one of the most user-friendly platforms around and you can set up and customise your account and start posting in a matter of minutes.
Who uses Tumblr?
Tumblr's audience is generally a younger demographic and the posts that gain the most traction are images. Consider the industry you're in and your target audience and ask yourself whether it's worth the investment of time and resources before setting up one for your business.
How to make it work
Once you've made the decision that Tumblr will be a worthwhile endeavour in your marketing strategy, sign up and follow these tips for creating a Tumblr that really works:
Customise your page
Find a theme, whether paid or free, and create a page that is on-brand and a continuation of the design used in your other social sites.
Interact
The beauty is in the re-blogs so find blogs that are industry related and start following, re-blogging and liking posts to reap the rewards.
Use tags
Don't go overboard as more than 10 tags can look like spam, but do utilise Tumblr's tagging function (as you would on Twitter or otherwise).
Be active
More than any other social site, Tumblr requires consistency in activity to be successful. Don't be afraid to post up to a maximum of 15 times a day (if you have the time and resources).
Get creative
An image of your product on a white background won't get much attention! Get creative and have fun with your content to maximise exposure.
For a free marketing health check for your business,
contact your local Snap Centre
today.