Top 10 SME marketing tips
Published: 22 December 2016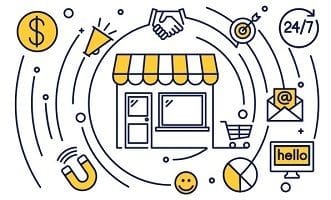 Marketing tips you can action on a small business budget
When you're running a small business, you don't have the luxury of big marketing budgets. The good news is, you don't need to spend a lot of money to make money.
Here are some practical, proven and profit-building marketing ideas that you can put into action now and as you take off in 2017.
1. Give away things or expertise
What can you offer for free that is also valuable in the potential customer's eyes? Think of something that gives them a taste of your great product, service or expertise. Give away a sample, an e-book with great tips they can't find elsewhere, a video series, a practical face-to-face consultation.
Not only do they get an idea of what you can offer and begin a relationship with you a psychological event happens too. When you give something away, recipients feel obliged to give back. You create a certain degree of loyalty as they feel they owe you.
2. Make it all about the customer
You hear it everywhere, but that's because it's so important. And, frankly, most businesses continue to look at their business and the service they provide from their own point of view.
Turn it around and imagine what it would be like to be a customer. They only care about how you can help them. If you can find the words and actions that tell them you understand their needs and aren't just in business to grab their money, you'll be a step ahead of the competition.
3. Build a team that cares
The major difference between you and the competitor could be the people who work with you and how much they want the business to succeed. Invest in team building, learn what your employees want and can do. Nourish them and they will grow for you.
4. Attend conferences and other network events
If you have the expertise, look for ways to become a speaker at events. If not, attend a few workshops and hone your skills. Soon you'll be able to create a network of people who can contribute to your business growth. Gradually, people will come to you in search of your expertise/product.
5. Create your own events
Running events and educational sessions helps you build a reputation as an industry leader. For instance, if you run an art shop, you can conduct art classes for children once a month or organise an annual competition for clients.
Furthermore, you can bring other art shops together and organise a charity event for your locality. Don't forget to get it covered by local press and other media.
6. Lead by example and be socially responsible
Show your team and industry peers that you're in it for more than the money. Offer to head up an association, offer your expertise to some voluntary organisations. Stand for a cause or sponsor an organisation that makes an impact in other people's life.
This enhances your visibility and puts in you a favourable light. It's a great way to do-good in the world while making invaluable contacts.
7. Start your own podcast show
A podcast is like web radio and becoming more and more popular as people can listen to them on your mobile phone or ipod in the car, at the gym, while running or walking the dog, and many other places. You could create a podcast around a new product or service, helpful tips, or invite guests in to talk about industry trends.
To get the ideas flowing, you can find all kinds of podcasts here.
8. Set up joint promotions with other small businesses
Get in touch with related, non-competitive small businesses who aim at the same market and promote each other to your current clients. Try to come up with a value-add incentive for the clients be it a discount, exclusive offer or premium service. This is a great way to boost sales for a low cost.
9. Send another offer to customers right after they purchase
Your customer just purchased some jeans from your shop. Send a handwritten note or personal email to thank them. And let them know that if they take the note into your store they will get a private offer of x% discount off their next purchase. And if they bring a friend, they'll get the same. To create urgency, make it valid for a set time.
10. Keep in contact with your customers
It's so easy to lose customers to someone else these days. Not just through bad service or price wars. We are so busy and distracted, we often forget about companies we've business with. And there's always someone who can help just a Google search away.
So you need to stay at top of mind without being annoying. Think about ways to keep in contact with your audience in places they'll welcome you. It might be via a newsletter every week or fortnight. On social media. You may send them thank you or birthday card. And, of course, nothing beats a face to face catch up over coffee, if it's feasible.
Contact your local business builder today, at anyone of our Australian locations to help action these marketing ideas.