Tips for using images on your social media business pages
Published: 26 July 2017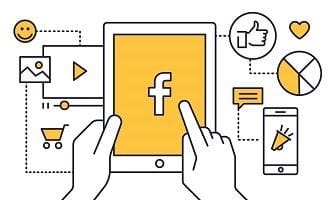 Looking for ways to help your social media content compete with walls of life updates, Trump news and animal antics? Science has a great suggestion.
The brain says images are the best place to focus
Studies show that the human brain processes 90% of the information it receives using visual cues. In other words, when it comes to creating engaging social posts, images hold the power.
And not just on social media, Instagram and Pinterest
Captivating photos and other images are essential if you want to connect with audiences on the big three social media platforms. Here's why:
Linkedin updates containing images get 98% more comments
Facebook records a staggering 87% interaction rate for image posts
Tweets with images receive 18% more clicks and 89% more likes
Of course, that doesn't mean you can just stick up any old image and hope to break the internet.
Here are 5 proven tactics you can use to make your social media images grab more attention, clicks and comments.
Don't blend in with the crowd
Social media gets consumed in the strangest places on public transport, during ad breaks, over dinner. So your posts and images need to stop scrollers in their tracks.
Striking, unusual images work like hand breaks to the eye. It might be the image subject, the colour contrast against all the same-sameness of the page, or the vivid colours you choose. It could even be the words over the top (more on that later).
This doesn't mean being loud for loud sake. Your image still needs to reflect your brand and be relevant to your communications. If your company personality is subtle or serene, stick with this. You can still stand out without using bells and whistles.
Add visuals that tell your story
Use images that reflect and add to your communication and content strategy. You can do this through visual stories. For a restaurant or healthy lifestyle business it might be delicious food.
Another powerful story is transformation such as a before and after shot of a person, home interior, statistical result, or any other improvement from using your service.
You don't always have to show transformation in one image. You could create separate posts showing people or events at different stages too.
Catch eyes and hearts with people
Following on from the point above, there is nothing that connects like the human angle woven into a message. That's why we love stories because we can relate to the characters or picture ourselves in a similar situation.
Try and use a strong human story to bring out your brand or your business's philosophy and vision.
This could be photos of customers linking to their story, people who are similar to your social audience, or even people they want admire (aspirational person in their field, famous person) or want to help (people that charities are helping, etc).
It could also be a photo of you or your staff in real situations, rather than over-stylised photo shoots. This is great way to start creating personal connection with your audience.
Marry images with text
A picture may speak a thousand words, however, they do their best work with the support of well-constructed alphabet soup.
Words create context around an image. The majority of people will see the image first and then look for words close by that tell them what's happening in the picture, or the story it relates to.
This is often what peaks their curiosity enough to click for more.
Words over an image can be powerful too. Just be careful not to take away from the power of the visual with too many words or x-large fonts.
Infographics are a fantastic way to blend the power of image and data to explain complex messages quickly and simply. They work a treat on social media too, regularly gaining clicks, shares and likes.
Speaking of words, ensure that your images are fully optimised with the tagging options available e.g. hashtags.
Be consistent
Posting on different topics including the occasional bizarre one is a great way to surprise and delight your social audiences. But remember that people follow you for a reason. And it's usually motivated by more than just one post. In other words, they like your style.
So, while your different social channels may have varying tones e.g. LinkedIn professional and conservative, Facebook fun and emotional, you want to keep your posts and images on each channel relatively consistent.
Ideally, your regulars will glance at your posts while they scroll and recognise them as something amazing that you would share. Then like, click, comment or share.
While the goal with a new audience is to attract them with an image look, subject and feel they haven't seen before, and intrigue them enough to want to know more.
As people get busier, we need to find quicker ways to capture their attention. The human brain processes visuals 60,000 times faster than text. So if you want Likes clicks, shares and comments on your social posts, be sure to put time and thought in to your secret weapon your images.