Three tips to improve your business brochure
Published: 28 September 2015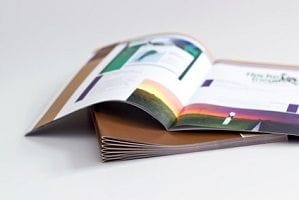 Even in this digital age, businesses need brochures.
A printed brochure offers credibility and a personal touch that no digital literature can provide plus it's something you can physically hand to clients to take home and read through, just in case they forget your URL. Read on for three tips to improve your business brochure.
1. Share the right information, and organise it
Before you start, do some research into the most commonly asked questions about your business to find out what people want to know, and in how much detail. Next, brainstorm a few questions that someone who is completely new to your business might not think to ask. These could be about specific products or services, or anything else that is unique to your organisation.

Now that you have a good idea of what to include, start thinking about how it should look on paper. Where's the most logical place to start? Where should people go next? Follow the journey as a reader to create a useful brochure.
2. Make it pop
Use bright colours, clean lines, simple design and great imagery to make your brochure pop visually. Pay attention to the treatment of the front cover as this will ultimately be the element that encourages your potential clients to keep reading.

It's a good idea to start the design process with your brand colours and fonts in mind, and work from there to create something visually amazing. Don't be afraid to work outside the pamphlet box, either try something interactive by adding QR codes or three-dimensional features to create intrigue.
3. Quality is king
Be clever about exactly how many brochures you need and how much you can boost your budget to invest in high-quality ink colours and paper types. The brochure stands out in the digital age because it is tangible, so the very feel of high-quality, sturdy paper will encourage people to hold on to it and take the time to flip through.

Similarly, high-quality inks produce colours that are glossier and give the whole brochure a bright and bold boost. Paper and ink has come a long way with printing technologies, so be sure to ask your local Snap Centre what they can do for you.