Three marketing game-changers of 2013
Published: 12 December 2013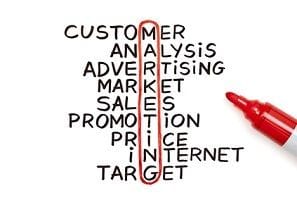 3 Biggest marketing game-changers of 2013
The marketing landscape in 2013 has seen a whole host of changes, developments and trends that have made for a very interesting year for marketers. Here's our roll call of the three biggest marketing game-changers of 2013, plus what you can do in 2014 to make the most of them.
Big data gets bigger
'Big data', which promises a greater understanding of your clients, started making serious waves in 2012 when the Obama administration employed big data insights for the US president's re-election campaign. But it wasn't until 2013 that marketers really took notice and new technologies made it easier for small businesses to get in on the action.
In 2014:
This is just the tip of the iceberg. The time is nigh to take the data you have seriously and look for ways to gain more client insights to make it work for you.
Real-time marketing is in
Change is occurring more rapidly than ever before and, as a result, marketers are no longer able to plan out a whole year's worth of marketing in great detail. This year saw more and more marketers move away from the notion of set-in-stone campaigns, instead employing a more fluid approach allowing for the utilisation of seasonal and real-time events and triggers. Similarly, the growth of content marketing and social media has allowed brands to react in real time.
In 2014: Look for ways to integrate real-time marketing alongside planned campaigns for the best results.
Social gets serious
Over the past year, social media platforms have focused on becoming more marketing friendly with new ways to advertise, providing better analytics and offering more business-friendly solutions for scheduling posts. Marketers are now using the data gathered from social to develop more targeted, integrated and sophisticated social campaigns, and reputation management has become part and parcel of online marketing.
In 2014:
Take a considered approach to your social media. Research what your followers want and create a strategy around it. With ads launching next year, Instagram will also be a platform to keep your eye on.
For help marketing your business in 2014, contact your local Snap Centre.