Three eggcellent Easter marketing campaigns
Published: 31 March 2015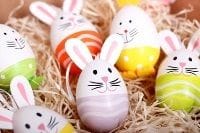 Easter is a hop, skip and a few too many toasted hot cross buns away, so we thought we'd draw some inspiration from companies with seasonal marketing strategies that ticked all the boxes.
Whether you're looking to scrape together a last-minute Easter activation of your own or you're drawing inspiration for the next big seasonal event, these three clever ideas are sure to get your business brain in gear.
B2B online event: Torpedo Easter Egg Hunt
In a perfect example of how a B2B company tapped in to the seasonal buzz, digital marketing group Torpedo in the UK created an Easter egg hunt across its website. The competition gave clients a chance to win a chocolate hamper by locating five Easter eggs hidden across the site. This activation was clever because it encouraged clients to click through the website to learn more about the company, while offering them something special in return to celebrate the holiday.
B2C live event: Cadbury and National Trust Easter Egg Trails
In 2008 Cadbury convinced the National Trust in the UK to sponsor its Easter Egg Trails, an event involving clues that led participants to the end of a trail where a Cadbury Egghead reward lay. The collaboration gave the branded event a greater authenticity and reconnected Cadbury to its core target of kids and families at a crucial time, all while bringing recognition to the National Trust. Eight years later the event, which was originally conceived as a tactical one-off, is still running and is stronger than ever. A fine example of the power of collaboration.
B2C print: Wilkinson Sword Xtreme 3 'Happy Easter'
When done well, humour is perhaps the most successful marketing tactic available. Wilkinson Sword, a company so far from Easter it's a wonder it even considered the holiday in its planning, drew inspiration from symbolism associated with Easter with a clever print ad showing a bald head that resembled an Easter egg. Simple and extremely effective.

No matter what industry sector your business is in there are always opportunities to maximise marketing efforts during certain holiday periods.
Contact Snap for help creating your next marketing campaign.