Three client surveys to help your business
Published: 25 June 2014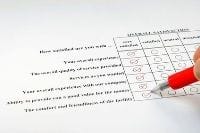 Improving your client services and relations might be your top priority, but how do you know whether you're actually achieving your goals?
Client surveys are a tried and tested, simple and effective way to get the feedback you need. Discover three surveys that can help your business.
1. Client satisfaction survey
Perhaps the most valuable of all client surveys, this allows you to measure satisfaction levels and find potential ways to improve your business model. The best time to send a satisfaction survey is directly following client engagement, such as a purchase or enquiry. This shows your client that you care and makes it more likely that you'll get an accurate response.
2. Products and service survey
Before you implement a new service or launch a new product range, take the time to find out what your clients really want. A product and service survey is useful in helping you identify where there might be a gap in the market or a desire that's not being fulfilled. By targeting your current product line and services, you can find out whether you're missing out on some valuable offerings.
3. Consumer research survey
When you're considering changing your marketing strategy or searching for ways to amplify sales, make sure you have a good idea of what your clients are looking for first. A consumer research survey lets you dig deeper into consumer habits and usage situations. This allows you to understand how your clients interact with your products and offers great insight into how you can market them accordingly.
For more ways to help market your business, contact your local Snap Centre.