Three blogs to follow for design inspiration
Published: 22 April 2014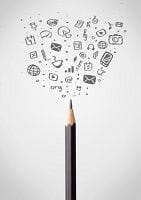 Maintaining fresh content, eye-catching marketing and a cutting-edge website can be tricky, especially when there are big demands on your creative energy.
Free your imagination and get the boost you need be inspired by some of the savviest design blogs around. We've chosen three of the best, so you can discover some brilliant design ideas along with your morning coffee.
1. Creative Bloq
Creative Bloq may be a spin-off of the online magazine net magazine, but it has become a fantastic source of inspiration and graphic instruction in its own right.
Run collaboratively under the watchful eye of editor-in-chief Dan Oliver, the site features the creative skills and talents of a huge network of designers. Delve into its inspirational articles and how-to guides for a wonderful insight into the new tools and trends that are transforming the world of graphic design.
2. Cool Hunting
Now one of the biggest design blogs in the world, Cool Hunting has been providing designers and creatives with a regular dose of inspiration since 2003.
Posts are predominantly image-led and are perfect for getting your imagination firing on all cylinders, and you'll also find regular interviews with design experts. The site is curated by its founder, NYC-based designer Josh Rubin, but its global contributor network means you'll find inspiration from all around the world, covering all areas of graphic design.
3. Spoon Graphics
Packed with ideas, tips, tutorials and great concepts, Chris Spooner's graphic design blog is the perfect place to spend a few hours.
There's something for everyone to be found on Spoon Graphics, whether you're new to the world of design or a veteran of the creative field. Chris also has a handy Links of the Week feature where he keeps an eye out for the latest and greatest design innovations so you don't have to.
Contact your local Snap Centre for more brilliant design inspiration to revitalise your online and offline business presence.