Thinking outside the square
Published: 22 March 2013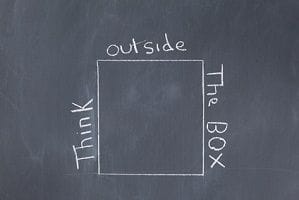 Brainstorming for solutions
Recently one of our Centres faced a challenge that required some good old-fashioned brain storming.
Within the Westpac Head Office in Sydney is a Snap Centre, servicing the various companies and departments within the Westpac group. This Centre is in a unique position, but also faces restrictions in the ways they can promote their products and services to potential clients.
Centre Manager Shaun MacDonald was looking for some ideas on how to promote the Centre's product and services within the Westpac guidelines, so Field Services team member Fiona Harcourt and I met with him to develop some ideas. We started thinking about the types of ways that Westpac employees used the Centre, what they were looking for from Snap, and how we could help them in their day to day working life.
We already had approval to display posters promoting the Centre in key locations. The idea that came from our session was to supply the meeting rooms throughout the building with free notepads and lolly bowls, all branded with Snap and the Centre's contact details. For Westpac employees we thought it would be handy to have notepads freely available for use in their meetings, and free lollies are always a good thought starter for a meeting! Westpac were supportive of the initiative, and Shaun has now rolled it out into meeting rooms.
Shaun's inventiveness is a great example of Snap's ability to think outside the square.