The shape of social media in 2013
Published: 26 February 2013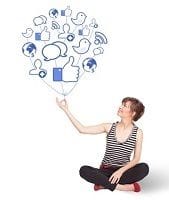 Keeping up with Social Media
With a rapidly evolving social media landscape, now is the time for businesses to fine-tune their social marketing strategy for the year ahead. Here are the main game-changers for 2013.
Content rich
The demand for meaningful, engaging content is stronger than ever. Businesses are wise to skip the hard sell sales pitch on social platforms this year and instead focus on creating high-quality content offerings on a regular basis.
Visual marketing
The steady growth of visual social networks such as Pinterest and Instagram is proof of the power of the image. Strong visuals and video content will be essential to driving social media engagement this year.
Less is more
As Google+, Pinterest, Instagram and other relative newcomers start to crowd the social market, businesses will need to focus their energies. Smart marketers will work on creating a meaningful presence on fewer platforms, building an authentic, engaged audience rather than chasing numbers.
Social advertising
Already important, social advertising is set to become a necessity for businesses looking to organically build their audience and increase retention. Social networks are steadily providing richer, simpler and cheaper advertising options, which will provide a smarter alternative or complement paid search advertising.
Mobile optimisation
With accelerating smartphone and tablet use, this is the year to work on optimising content for mobile platforms. This means a rethink of content offerings, with a greater emphasis on short, digestible content and more sharing options.
A new focus on ROI
It's no longer enough to float your message into the social world and hope for the best. This year we'll be seeing increasingly sophisticated tools for businesses to capture data, measure their return on investment and ultimately prove the worth of their social campaigns.
Contact Snap
to learn more about how we can help you with your business website and marketing needs.