The rise of mobile apps and how SMEs can reap the benefits
Published: 8 March 2017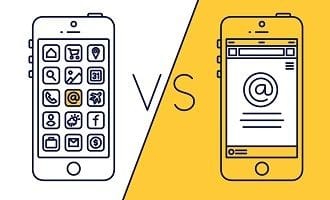 Wondering if your business needs a mobile app? With over 250 million mobile apps expected to be downloaded in 2017, reaping smart businesses more than $77 billion in revenue, the answer is most likely "Yes. And soon."
Here's why more and more businesses are developing mobile apps, and how you can use an app of your own to sell more, build customer trust and take out the competition.
But first, the world's worst kept secret mobile rules
Condolences to any desktop or laptop computers reading this, but it's official. According to StatCounter global internet use statisticians, mobile phones are now the most popular way for people to connect online with businesses big and small.
Here are a few more business-friendly trends:
80% of users have their mobiles on them regularly all day
80% use mobiles to research products and services
60% of all mobile users have downloaded at least one app in the last 12 months
But why not just have a website?
While the number of people connecting online with businesses through mobile phones is exploding, the experience itself is not always as good as impatient web and phone users expect these days.
Especially if the website isn't mobile responsive, has a lot of content to navigate through, or people want to quickly find a few specific tools, products or services.
Mobile apps improve customer's online experience:
Faster to use and navigate
Easier to find the things people really want on mobiles
Creating a more positive brand connection
Allowing access without internet connection too.
How to build your audience's app-etite
Boost customer engagement and personalised service
With a mobile app, your big seller business offerings are right up front 24/7. Apps also make it easier to understand customer needs through feedback shared directly through the app. Knowing about things like interests, location, usage behavior, and more means you can personalise the content and experience.
Increase in sales
A mobile app is a great way to create lighting fast checkout. If people can find, choose and buy in a few quick clicks, they'll buy and come back more often. Apps can also be designed to take visitors down a sales funnel experience rather than wandering around gathering information in different sections. If it's a joy to a browse and shop you'll boost your chances of conversions.
Build a stronger brand
A well-designed app, that is not only aesthetically pleasing, but has helpful tools (be it maps, calculators, quizzes or anything else that makes sense to your audience), personalised content and is backed up by excellent service will have a positive reflection on your brand and make your business more memorable too.
Be the talk of the town
Taking the step into app land now will help you capture your target audience's interest and custom. People appreciate a business that looks for and puts into action new and better ways to serve their customers. And they love to brag to their friends and colleagues about a fantastic app that THEY discovered.
What are the bit mobile app trends for 2017?
Nearly half of all small businesses plan to have a mobile app this year:
55% SMEs are building apps to increase sales
50% to improve customer experience
50% to become competitors in a specific market
Three areas mobile app revenues are expected to soar
Creating mobile apps that increase traffic and sales
Apps that simplify online purchases, provide easy-to-access information, and consistently pull in traffic.
Mobile apps that do more than just transact
Apps that:
boost the overall experience with the brand through tools and other features
can be customised by the user to make browsing and buying quicker and easier.
Focus on app store search optimisation
Having a beautiful, functional app is all well and good. But what if it can't be found? Like Google SEO rankings, it's important to optimise your mobile app so it ranks highly in App Stores. Focusing on the right areas can have a huge impact on:
how often your app gets seen
how many times app is downloaded
how much of a lift in sales and profits your business can achieve
Mobile apps can work in just about any industry from accounting to advertising, fashion to finance, travel to tradies. Why? Because people want a faster, easier and better way to connect with businesses they buy from.
Now is the time to look into mobile apps and make sure your business is the one to reap the benefits of mobile apps before someone else does.
If you'd like to find out more about mobile apps or discuss what kind of app functions might be helpful to your customers and bottom line, contact your local Snap centre today.