The quick, practical guide to SME branding (and how to do it)
Published: 19 April 2017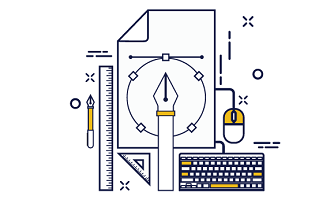 Good branding is great for business whether you're global giant or local legend, a retail business or a B2B. But what exactly is branding, and how can it help small businesses boost loyalty, sales and profits? Here's the layperson's quick guide to all of the above.
What is branding (in English please)?
In a nutshell, branding is what your existing and potential customers think and feel about your business.
For example, in the car industry certain companies have carved a strong brand niche for themselves. Now, a thought or feeling comes to mind whenever people see or hear their name. For starters:
Volvo - safe
Toyota - good value
Tesla - innovative
Aston Martin - super cool.
Say the most popular car brand names to people who buy cars and it's likely they can quickly tell you what that company or car means to them. That's good brand building.
But how does this emotional association happen?
It comes from the blend of values (think), actions (do) and communication (say) that a business makes over time.
What are the benefits of branding?
Builds trust
Brand perception creates a trust factor that can win over not just customers, but employees, suppliers and shareholders.
For example, Apple fans salivate for new product releases. Whatever that new product is, 90% are ready to upgrade and believe it will be the best option available. The same connection is often built with local shops, restaurants or online stores we have grown to trust.
Gives an identity
Branding makes you stand apart from the competition. So when the times comes for someone to choose a gardener, lawyer, takeaway meal, interior designer, tailor, catering company, etc you're not just another one in a long list. You aren't just judged and assessed on price.
The recognition and brand loyalty becomes ingrained in your customer's minds that can pay dividends in the future.
Turbo-charges your marketing
It's easy to create messages that attract the right new prospects because they quickly understand what you stand for. This means less wasted ad dollars and greater ROI.
Adds to the bottom line
The positive effect of branding extends to money in the bank too. The trust, the loyalty and the recognition translate into greater sales and turnover, now and over time.
That's why Apple's total lifetime value of all customers is estimated at $400 billion and growing.
Some inspiring ideas for branding for small businesses
Start content marketing
Having a website with useful, problem-solving articles, videos and other content can help people find you (via Google and other channels). It also hand-holds your audience through the customer journey to strengthen your bond, build trust and increase repeat purchases.
Embrace the power of social
Post valuable and share-worthy content that reflects your brand on Facebook, LinkedIn, twitter, Pinterest, Instagram or whatever social channels your audience frequent. Create a group or community. Rather than straight selling, start personal conversations that encourage discussion and tips.
Connect emotionally
Zeroing in on the emotional benefit of your brand can be the thing that captures people eyes and minds. For example, conducting free health check-ups if you are in that sector, or organising a creative culinary challenge if you are a food company.
You could also tell a story about your brand at an event, via email or in your social community, and invite others to share their stories too.
Offer some freebies
Everyone loves free stuff and it's a quick way to spread the word and help customers learn about your business, products or services.
Not just samples, but something that lasts longer such as your name and tagline on fridge magnets, pens, umbrellas, etc. You can give them away online or at local festivals, events, in your office or out on sales calls.
Attend trade fairs and events
Networking and promoting yourself at corporate and retail events is a great strategy for any business. Even if you're using the occasion to focus on sales, it's important to also consider the impact your presence has on your brand.
When people see your business name in lights, or talk to you and your team and learn more about what you do (and why), it forms or strengthens their 'opinion' of you. Needless to say, you want to ensure it's the right opinion.
Branding has long been a fuzzy topic, badly explained by many a brand and marketing expert kind of ironic when you think about it.
However, once you understand that branding is the way your audience sees, thinks and feels about your business (or at the other end of the scale, has no opinion), you can see why it is so valuable to your credibility, long-term sales and profits.
Contact your local Snap Centre today for more information on how to brand your business.