The principles of great design
Published: 25 July 2013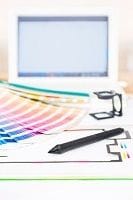 We all know that dynamic, clever design has an important role to play in building a strong brand.
But what exactly constitutes great design? Let's take a look at the fundamental principles of design and how you can apply them to your own business branding.
Balance
Design balance is all about creating visual stability. Symmetrical designs can achieve this by arranging all elements on one central axis (horizontal or vertical). On the other hand, asymmetrical designs can use various objects to balance each other out. In both cases, balance is achieved through careful visual composition. Use this principle as your starting point for every business design asset and you'll achieve a foundation that's instinctively pleasing to the eye.
Scale and proportion
Scale refers to the size of objects in relation to each other. Design harmony rests on each element adhering to the same scale. Similarly, proportion is the size of a part of an object in relation to its other parts. For example, consider the placement of your business logo on your design assets. It needs to be scaled accordingly to the objects around it, and also in proportion to the size of the business card (or billboard) it will be appearing on.
Emphasis
Trying to fit too much visual information into one space is a common design mistake. It can be tempting to fill a design with as much visual impact as possible, but effective design emphasises only the most important elements. The focal point of business marketing is usually the call to action, and this can be emphasised through careful use of colour, shape and placement.
Contrast
While colours vary from brand to brand, every business needs to use the principle of contrast. Whether it's a
business card
or brochure, designing a background that's only one or two shades darker than the text will render it unreadable and ineffective. Always ensure that the text has enough contrast to stand out from the design and powerfully convey your message.
Unity
All of the above elements should ultimately combine to create unity that all-important sense of harmony and composition. This is the ultimate quality that makes great design truly stand out.
Contact your local Snap Centre to find out how we can help create an effective and meaningful design for your business.