The Power of a Thank You Card
Published: 1 November 2016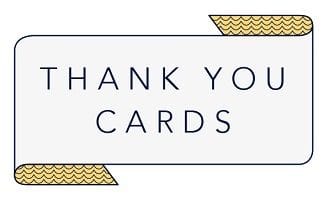 When was the last time you said thank you to someone and really meant it? And when was the last time someone said it to you?
Research show that when someone thanks us, we bond with that person. Not just in our personal lives,but in business too.
A Thank You card says, "I mean it"
The festive season is the perfect time to thank your clients and the people you work with for their support over the past twelve months.
While many business owners share a Xmas thank you, most do it electronically these days, with a quick email. And no wonder. It's faster and easier. But that can often say something in itself.
Taking the time to create and send a printed Thank You card to people who are important to your business:
says you truly appreciated their time, effort and business
displays care, courtesy and professionalism not often seen a lot today
sets you apart from others
almost guarantees to get your message read (rather than easily missed or e-trashed by mistake)
Here are some ways to create a Thank You card that stands out.
Bespoke your card
You can create a Thank You card that includes a personal message in print. Otherwise, you can add your own message in handwriting. Some businesses have a printed personalised message that goes to everyone who receives the card, and then add a personal message for each receiver, or a few select people.
You can also personalise the cards by getting key people in the business to sign them.
Include a tailored message
The most effective thank you cards come across as genuine, heartfelt, fun-filled, yet still professional. If there's some message you can include that relates to that one person an event that happened during the year, or something you spoke with them about - it will have an even greater impact.
Brand your card (a little)
Thank You cards are another great way to promote your business while doing a good deed. You can include your business name and logo on the card, or incorporate it into some fun or interesting design on the front. Just be careful not to go over the top remember this is about showing gratitude first.
Think beyond Christmas
There's never a bad time to receive a heartfelt thank you. In fact, it's even more powerful when someone doesn't expect it. So don't just think about cards for the end of the year. Have some ready to show your appreciation any time you feel someone deserves to hear how much you value them.
While we all want success is business, it's just as important perhaps more so - that we remember and acknowledge the people who help us achieve our goals and dreams.
As Shakespeare once wrote, "I can no other answer make, but, thanks, and thanks."