The juggling act
Published: 9 September 2011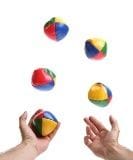 Snap Owner, Mum, and juggler
Our guest blogger today is Candi Browne, co-owner of Snap Preston. Like many women in business, Candi has had to juggle family and business responsibilities this is her story.
Running a small business is hard work. Not only do you have to be an expert in your industry, you also have to know about marketing, accounting, human resources the list goes on.
Then there is the challenge of combining a primary care role raising a family with running your own business, albeit part of a franchise group.
We purchased Snap Preston 16 years ago, when our daughter was just two.
As well as the pressures of establishing a new business and all the everyday tasks that go with it, I had to make sure meals were made, homework supervised and after school activities attended.
You would think things are simpler today but they aren't. My daughter is in Year 12 and also learning to drive we have completed 101 of 120 hours so she should be able to sit the test soon.
Such a relief.
We will then be relieved of the trips backwards and forwards to ballet lessons each evening and repair the scratch marks on the leather upholstery on the passenger seat I jest! Next issue we will be funding a 3 year traineeship at the Joffrey School of Ballet in New York!
Running your own business and taking care of a family does require a fair degree of juggling. You need to know what is essential to do yourself and what can be delegated or outsourced.
I have become a master of list-making, prioritising and also adapting along the way. I'm even learning how to say "no".
As well as running our family and being involved with the business, there is always the need to look ahead to see what is coming next. Keep watch for emerging trends to see how to catch the next wave rather than be washed away in the back swell. Are we remaining relevant and of benefit to our customers is the question we ask ourselves over and over.
Our industry is changing so quickly in our 16 years at Snap Preston, we have moved away from solely printing to providing design and online marketing services. We have had to keep up with new technologies and I am now wondering how social media will change the way we do business and how we market ourselves.
Although personally I do not like Facebook, a business presence looks inevitable if we wish to present an up-to-date relevant image. What will be next?
When I am "stressed out" or unsure I am a great believer in talking to others. I also have learned to laugh a lot and see the funny side.
When the going gets tough I amuse myself by watching Monty Python's song from Life of Brian, Always Look on the Bright Side of Life. And if that fails I watch the BBC's talking animals.
I often seek out good friends (those who are positive and think outside the square) and just have a chat and have even been known to have lengthy conversations with our Golden Retriever, Harriet Magnolia, on our daily walks!
Running a small business and a family at the same time certainly isn't for the light-hearted but it has been an interesting ride.
What are your experiences with running a business and having a family? How do you balance work and family commitments?