The introvert's guide to fun and fruitful networking
Published: 19 July 2017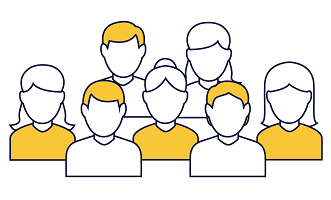 The mere mention of the word is enough to send some people diving back under the bed covers, shivering at the thought of small talk, sales pitches and uncomfortable silence.
Of course, we're talking about networking. If networking events weren't such a great way way to build business contacts, relationships and leads we could all just relax and get on with business.
But they are. And for many industries they're an essential part of doing business.
7 steps to networker Nirvana
If you understand the benefits of networking, but cringe at the idea of walking in to a room full of strangers to 'sell yourself", below are seven steps that will turn you from networking phobic to avid fan.
Or, at least, feel comfortable enough to turn these events into business winning opportunities.
Be well prepared in advance
No surprises here. Like preparing for a job interview, presentation, speech or any other situation where you'll be centre of one of more stranger's attention, practice makes better. When you know your stuff, you feel confident. And people see it in you, immediately.
So write down a list of questions you might ask people relating to business, personal life (not too personal though) and topical events. Then practice asking and continuing the conversation in the mirror.
Also anticipate possible questions about yourself and your business, as well as reactions to them. Work on it until you're so bored it's like second nature to ask and answer.
And, of course, take a big handful of smart looking business cards along with you.
Walk in with someone else
Whether you go Top Gun or wingman, it's comforting to saunter in to a room full of people you don't know with a friend or colleague by your side.
Often when we're by ourselves the first thing we do is nervously eye the room, pleading for a familiar face, friendly eye contact or quiet corner to hide in.
Instead you can relax, look and feel confident, and make small talk as you slowly get a feel for the venue and crowd. It's also easier to break in to conversations when you have a friend or two to introduce.
Think of rejection as their loss
Fact. Not everyone we meet wants to be our friend or will like us. Hard to believe, when you think about how awesome you are, right? And that's really the way to look at it.
In most cases, rejection at networking events is nothing personal. People have limited time, so they want to spend it with those they click with most and/or see as the most beneficial to their own goals.
After all, that's what networking events are about. It's speed dating for business. And you don't want to be wasting your time with people you're not compatible with.
If someone isn't keen to talk to you, move on until you find someone else who been looking for a business catch like you all night.
When you see these events as a fun game where you have to work through the wrong people to discover the right ones, your whole attitude towards rejection and networking completely changes.
Start small talk at non-network moments
There comes a time when all networking introverts must leave the nest. In other words, you'll be far more productive if you talk to people other than the networking wing-person you rode into to town with.
The first place to open up conversations is with the people around you. Remember, not all of them will be networking guns either. Some of them are sure to be as nervous as you are, if not more.
If you're not ready for that, try talking to people at moments when neither of you is expecting nor expected to deliver your business blurb. For example, standing in the coffee, bar or food line.
This gives you an opportunity to break the ice over something amusing or interesting in the room. It also gives you a glimpse of people's real personalities so you'll quickly know if they are on your wavelength or not. Always remember to move on to others from time to time.
Expand your degrees of separation
When you make a new acquaintance, look for common interests (now's the time to pull out some of those questions your imaginary audience found so fascinating in the mirror at home).
Once you are comfortable with each other, see if they know other people who might be good business contacts, and could introduce you. And you can offer to do the same for them.
Word of mouth is an effective and easy way to meet other people and expand your networking horizon, because you come with a stamp of approval.
Show genuine interest in people
Networking is a give and take process. Lend a keen ear to other people and keep asking relevant questions to show your interest. Be generous in your approach. Show you are interested in what they have to say.
Maybe even try a little flattery as long as it's sincere and you both already feeling very comfortable in conversation. Giving goes a long way in networking.
Follow up after the event
Once you make a new contact, follow up in the coming days to cement who you are in their minds. Remember that they will have collected lots of cards and spoken to many people. If they're important to your business, you want to stand out from the crowd.
Send a personalised email saying how much you enjoyed meeting them. Mention something you talked about. Or do the same through LinkedIn or Facebook (be sure that they use Facebook for business, and not just for personal contacts).
If you promised someone further information, a link to a site or interesting social page, etc be sure to send it to them.
In summary, be like Dale
Self-improvement guru, Dale Carnegie, knew thing or two about networking. He even wrote the business bible on it 'How to win friends and influence people'. We leave you with five of his hot tips for better networking:
Smile
Ask a question
Listen
Keep business cards handy
Say the person's name when you are introduced to them
Remember, very few people feel 100% confident at networking events. Now you have to tools to make networking work for you from the moment you walk through the door until you say goodbye to your last hot new prospect.