The importance of visuals in content marketing
Published: 10 February 2015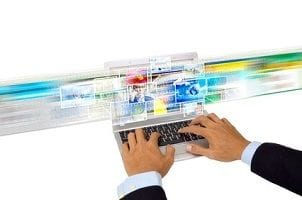 A website is nothing without high-quality content.
For most people, this means simply having professionally written webpages, blogs and marketing material. However, the written word isn't the only factor to consider when creating site content images, infographics and videos all play a big part.
More enticing to view
While the web has its fair share of avid readers, blog posts, press releases and newsletters hold people's attention far longer if there's an image or video included, which means you have a bigger chance to get your message across.
Quicker to understand
The human mind works in complex ways, but there's no doubt information is more easily digested in small chunks or when there's a visual element accompanying it. While short videos and colourful infographics can add an extra element to a page, small inclusions such as graphs or charts alongside paragraphs of statistics can help readers better digest technical information and data.
Likely to go viral
A well-written article is still a thing of beauty, but if you want your content shared you need a bigger chance of that happening so why not include a short video or an attention-grabbing image? This is especially true on social media sites, where users often browse their feeds for quick and interesting clicks. This not only helps branding, but also SEO with a multitude of sources being directed to your business's site.
Brand trust
As well as helping to share your company name and promote your business as an industry leader, visual elements on a website go a long way towards getting a person to trust your business. In a 2014 survey, almost half of webs users said website design was the most important element when deciding whether to trust a company. Having something that's professional and easy on the eye can help turn more visitors into clients.
Contact Snap for help creating a website that encourages trust in your company.