The future of 3D printing and the manufacturing process
Published: 18 February 2015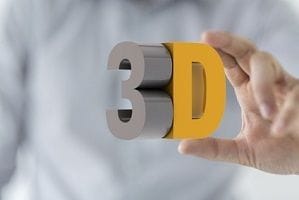 An exciting technology, 3D printing also known as additive manufacturing is a way to create a physical object from a digital file.
Many people believe it will be the next big thing.
How it could change business
Although different 3D printers work in different ways, each takes a design from a file on a computer (or mobile device) and turns it into a real-life object. While there's currently limited use for people to have one at home, for small businesses it could make a huge difference. Stockrooms may be a thing of the past, with items created on demand, meaning a small booth could easily meet all your clients' hardware, crockery or jewellery needs. With the right technology and designs it's even possible to print all the parts you need for a home or a working car.
For offices, 3D printers could soon be helping out with small odds and ends. From plastic coils to help keep wires in order to stands for tablets, laptops and other devices.
Immediate hurdles
While the price for 3D printers is dropping, it's still more than most households would like to pay for one. Commercial printers, however, are beginning to look to the future, and it's likely that soon you'll be able to walk into a high-street store to get something custom printed. There are still a few issues that need to be ironed out before that happens. Patents and other legal issues murk the scene, and an American man designing, printing and firing an all plastic gun one that could make it past airport sensors recently caused a bit of an uproar in the States.
Materials are also still an issue. While the lower-end models all use a plastic filament, which is great for making small models, devices that can print metal or ceramics are a lot more expensive. Time is another issue. While on-demand 3D printing is likely to be a huge success one day, many designs currently take hours or even days, rather than minutes, to print. Although it's thought that 3D printing will one day make a huge change to the way we live and work, it'll still be a few years before we see any large-scale improvements.
Contact Snap to find out more about printing developments and the future of the industry.