The art of the business card: How to make yours a winner
Published: 16 October 2012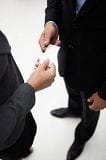 The business card is a timeless promotion of you and your business.
Compact and portable, it's the simplest way to tell potential clients, contacts and networkers who you are and what you do. While professional, it still maintains that extra personal touch.
What to consider
When designing a business card, you should always consider how to best represent your business. While an interior design firm may find that visual flair and creativity would demonstrate a sense of what they're about, it would not suit the nature or client demographic of a business consultancy firm.
Harnessing your company colours and logo is integral to ensure consistency across all branding materials. Start with this as the basis of your design, making it unique and eye-catching without going over the top. Then add in your text elements:
Full name
Company name
Position title
Email address
Phone number
Fax number
Website
Physical address
All text details should generally be in the same font and colour. The only exception to this is the name itself, which you might like to appear differently for the purpose of standing out. Choosing a sans serif font is best for readability.
Finishing touches
Other potential inclusions are your company's slogan or a short description of your key services or products. This could remind clients of the nature of your business, especially if your company name doesn't give it away already.
Also keep in mind that many people like to write their own notes on the back of business cards, so keep some space on the back to allow for this. QR codes are also an easy addition to business cards, as they allow your details to be saved in an individual's mobile phone.
For eye-catching and effective business cards that will help win you clients, contact Snap today.