Thank you goes a long way
Published: 25 January 2017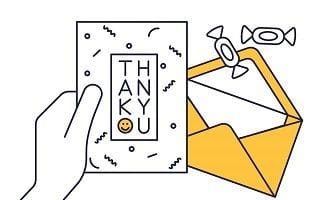 Why a simple job interview thank you card could get you the nod
Do you know the top two most common mistakes that candidates make in job interviews?
US recruitment site Classandcareers.com recruiters and HR managers across the country and discovered the top ten reasons. They included everything from lack of enthusiasm, personality and preparation to holding on to a grudge for their last employer. But none of these were top of the pops.
The second most common mistake was failing to set themselves apart.
The number one mistake? Failing to ask for the job.
How to tilt the scales in your favour
A lot of other factors go into a, "You're hired!" decision. For example, talent and competency for the position are pretty important too. But knowing how to avoid these interview faux pas will certainly put you in good stead.
Another lesser known tool you can use to boost your chances is a post-interview is a 'Thank You card'.
Why send a Thank You card to an interviewer?
In many surveys, almost every job interviewer says they enjoy receiving a thank you from interviewees. However, it doesn't happen all the time and when it does, it's usually a phone call, email or text message.
So there are plenty of good reasons to send a Thank You card:
It puts you at the front of their mind
You are showing traits of courtesy, care and professionalism
You can include any important information that you forgot to mention
It says you appreciated their time and the opportunity to apply.
Just as importantly, a thank you card (you guessed it):
Is unique and rare, and sets you apart from other candidates
Says - even if you don't spell it out - that you really want the job
Custom made thank-you cards
While you can use a generic thank you card, a more impressive option is to send your own custom-made thank-you cards with a message of your own printed on them. That way you can have them ready to send out within 24-hours of the interview and really impress.
We've produced single print and small run custom Thank You Cards for many successful job candidates. Contact your local Snap Centre today to find out how we can help.